Lemon Rose – Free Crochet Pattern
Hello my loves! How was the weekend? I hope you were able to stay together with your family, take the opportunity to rest and be ready to start a new week. Every day we will bring you a new hand craft pattern for you to learn. Let's make this week beautiful, with lots of color, crafts and joy. Today's pattern is the Lemon Rose, a lovely crochet rose that you will love to make. It's a simple, small and quick pattern to make.
The rose appears to be in 3D, giving volume and movement to the piece. In the pattern, you will learn how to make it with a square edge, to join with other pieces and form a blanket. The border is optional, you can do it or not. Without the edge, lemon rose can be used as a detail in bags, rugs, coats, baby clothes.
A multitude of options to let your creativity work and make charming pieces. The crochet technique is very versatile and made by all ages. From clothes to home decor items. It's an old technique, but we use it to make pieces full of modernity. Crochet materials are simple, easy to find and last a long time.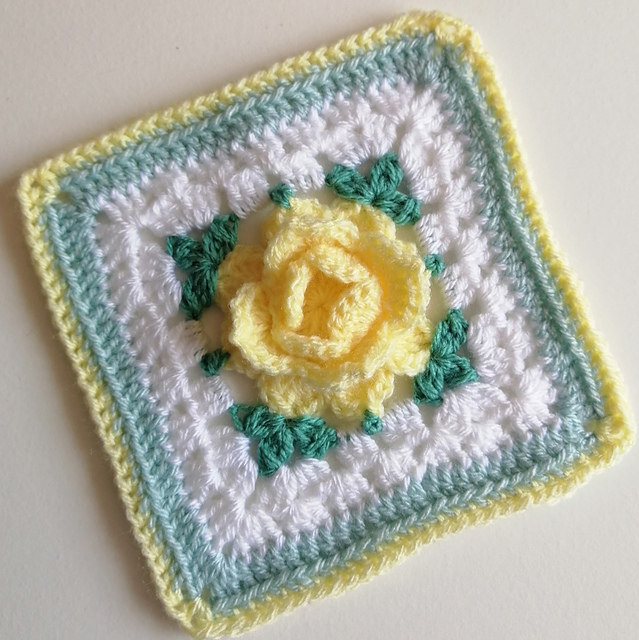 Image / Pattern / Tutorial: Ravelry
I have crochet hooks with over years of use, and I'm sure I'll keep using them for a long time. As for the yarns, choose the ones you like the most. Because it's a small pattern, you can use the rest of yarn from another project. Take the test, see if you like the color, the way yarn behaves.
Depending on the project, you can make multiple colored roses, all the same color, whatever you prefer. The Lemon Rose pattern is available on Ravelry, with the step by step, materials, sizes and abbreviations for you to understand every step. Ready? This is just our first pattern of the week. We will continue to bring patterns for all skill levels and tastes.
We are very happy to be able to bring all this and see that you like it and are putting it into practice. Do not forget to tell us here in the comments what you think, how was your experience. We will be very happy to read and continue to inspire you.