Crochet Unicorn Slippers – Free Pattern
Nothing beats coming home after a long day and putting your feet up. With that in mind we brought the Crochet Unicorn Pattern. A beautiful slipper, very comfortable and warm for colder days. This pattern comes with all the details that a unicorn has. You can't help but be successful with the kids. But this pattern is not just for them.
If you are like me and love a more colorful and livelier piece, this slipper is for you too. It is a fashion beyond comfortable that pleases all tastes. Very easy to make, it has a beautiful point and that pleases the most varied tastes. The color is also at the discretion of each taste. In the standard you will find several size options.
Choose the one that suits you best, follow the instructions for that size until the end. In this pattern you don't need to buy a sole to sew on the slipper, it's all crocheted. The slipper's comfort is a result of the addition of fiberfill stuffing. If you have any leftover yarn from other crochet projects, you can use them for details where little yarn is needed.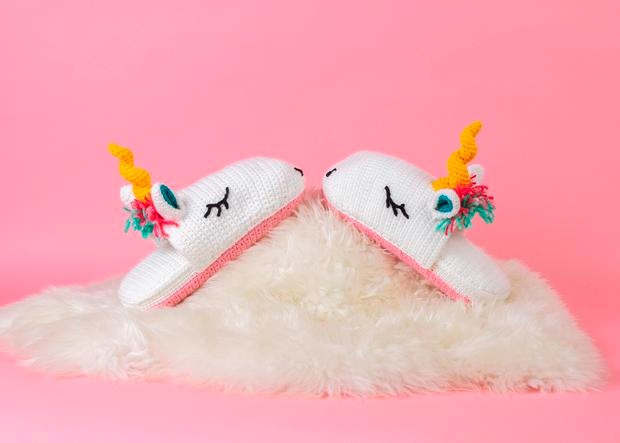 Image / Pattern / Tutorial: We Crochet
This pattern requires a little more materials and practice. If you are starting to crochet, I recommend you practice a little more with easier pieces, such as scarves and blankets for beginners, which you can find here on the site. After some work, you will see that you feel more confident in making the stitches, that they become more regular. Then it's time to venture out and make these beautiful slippers.
See how easy it is to make your own crochet slipper? You can still enjoy and sell these beautiful slippers. Invest in different colors. The complete pattern is available at We Crochet, with all the information, yarn suggestions and crochet hook you need. Leave your opinion here in the comments. We want to know if you are also in love with this pattern. Let's start? Our feet deserve this comfort!