Scrap Buster Beanie – Crochet Pattern
You know that crochet cap model that can't be missing in your looks? It's Scrap Buster Beanie. Is it just the temperature drops a little bit that you already run to wear a crochet cap? Or does it not even need to cool that you already bet on the item? You are not alone. The cap is a beautiful accessory, which adds a lot to the look and matches many styles.
In this pattern you will make rounds of different stitches. That's the charm of this piece, besides the pompom on top. Using different colors, you enhance the beauty of each point. The whole piece can be made with the same color, the difference between the stitches is more subtle, but still noticeable.
If you have some yarn leftovers, not too small, you can use them for your scrap buster beanie. To splice the different wires is not difficult. The knot will be hidden inside the cap, no one will see it. Choose a very warm and soft yarn. If you're making the cap yourself, measure the size to make sure it doesn't get too tight on your head.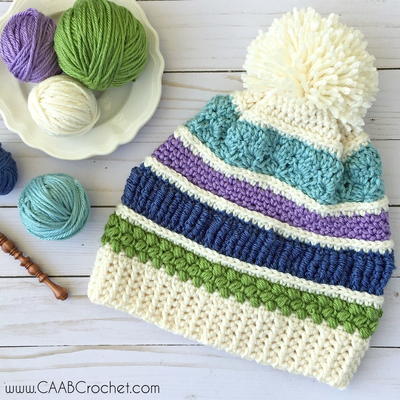 Image / Pattern / Tutorial: CAAB Crochet
This pattern is very beautiful and versatile. You can do it for men and women, children, babies, just change the size, which is not difficult. The circumference size that determines the cap size. Then take the opportunity to increase or decrease this step. Change the colors of the rounds. I think it's beautiful pieces in gradient, the same color of thread with different tones. It is discreet but very elegant.
The complete pattern is available in CAAB Crochet, with various tips, yarn suggestions and crochet hooks. Every time we bring a new pattern, we look forward to hearing what you think and what it was like to do. So, feel free to leave your comment here. We always read them all with great affection.