Crochet Pillow – Kittens and Puppies
Get ready to fall in love with the pattern we brought you to learn today, the Kittens and Puppies Pillows. Fun and decorative, these free crochet pillow patterns are completely irresistible. Nine colorful kitties grace the front of the pillow with a mouse appliqué for the back. Puppy pillow has dimensional ears and a cat appliqué for the back.
Using pillow is an easy, quick and cheap way to renew the decoration of environments. With different colors, sizes, formats and prints, crochet pillows are one of the favorites to enhance the decoration of environments spending little. The pattern we brought is perfect for the children's room. If you prefer to use it in another room in the house, it will be a fun or beautiful touch for the environment.
Square-shaped crochet pillows are the most traditional. But the drawing made makes everything livelier. Enjoy playing with the color combination. Feel free and explore all your creativity. Another option is to use yarns with different textures in the design of the animals. It will emphasize the design of the pillow and bring more personality to the piece. You will make this pillow in parts. The kittens and puppies are made in separate squares and sewn together to form the cushion.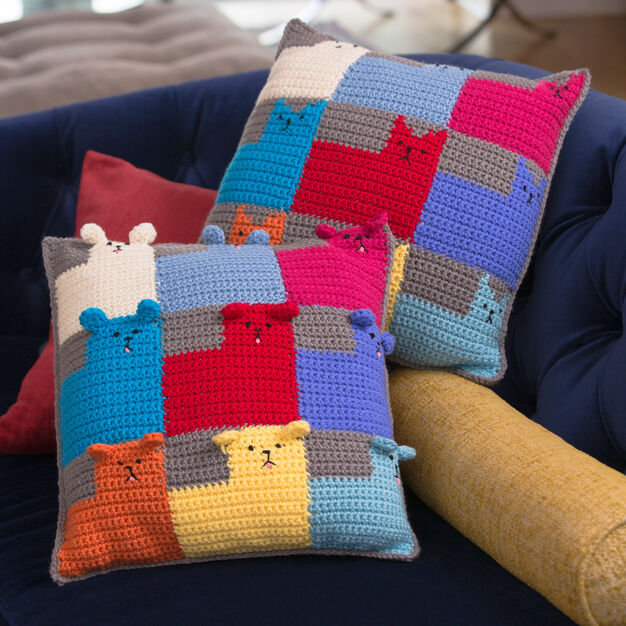 Crochet Pillow Pattern
To make this crochet pillow, you will need to make some special stitches. But don't worry, they're not difficult and they don't raise the difficulty level of the piece, which is easy.
Special Stitch
hdc2tog = [Yarn over, insert hook in next stitch, yarn over and pull up loop] 2 times, yarn over and draw through all 5 loops on hook;
sc2tog = [Insert hook in next stitch, yarn over and pull up a loop] twice, yarn over and draw through all 3 loops on hook.
When finished, the piece will measure 16×16″ (40.5X40.5 cm). This pattern was designed by Michele Wilcox and are available FREE at Yarnspirations.