Casablanca Crochet Blanket Pattern
Today we have a classic of crochet craft, the Casablanca Crochet Blanket. The crochet blanket is one of the most popular and easy items to find in homes. They bring comfort and a special charm to the environment. We're sure you've had or have one of these blankets. You can use them to decorate the living room sofa, in an armchair, match the pillows and rugs.
When it comes to the crochet blanket, the most important thing is to use it in order to take advantage of all its advantages. To decorate the living room, with the crochet blanket it is possible to give the sofa a totally different face. It can be a cheap and smart alternative to hide tears and stains that you may have in the fabric, something very common in leather sofas and armchairs.
This pattern has dots of different colors randomly on the blanket, bringing out as if they were dots of light. Take the opportunity to make combinations that you like. If you're still not sure about the colors, we suggest using just one color. If you already crochet, you must have some leftover yarn saved, you can take the opportunity to make the details with these colors. Take a test first and if you like it, let's get on with the work.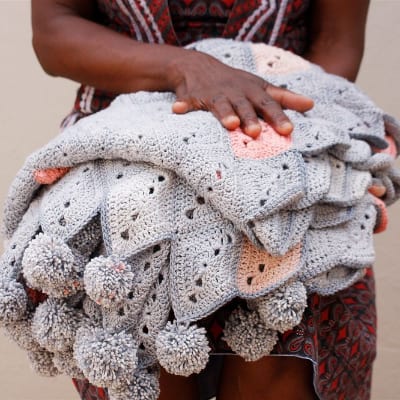 Casablanca Crochet Blanket
This pattern is so beautiful you can't believe it, but it's easy. If you want to start crocheting for him, great option. Below you can find important notes about the blanket. Before starting, read the pattern well, see if there is any doubt, if all the materials are available.
Pattern is written in UK terminology;
Work ch3 at the beginning of tr rounds. This counts as a stitch;
Work ch4 at the beginning of dtr rounds. This counts as a stitch;
Work 1ch at the beginning of dc rounds. This does not count as a stitch;
If possible, a standing stitch at the beginning of rounds will give a much better appearance.
The pattern is super complete, with explanation in every round, available in Nurturing Fibers. Used abbreviations are also described, along with thread, crochet hook, and gauge suggestions. The size of the final piece is 170cm x 120cm. It's always great to have you here and share all these beautiful crafts! Now it's time for you to make yours, shall we? It's crochet time.