Woolly Waves Baby Sweater – Crochet Pattern
Baby clothes always hold our attention and when they are crocheted, they have a special touch, as is the case with today's pattern, the Woolly Waves Sweater. This crochet sweater is made with a super delicate stitch, mixing different colors through the rounds. Crochet clothes are part of a tradition that, even today, conquers the eyes of fathers and mothers.
In addition to beauty, the durability of the pieces and the versatility of crochet are great advantages that you should take into account. It can be an option to gift friends who have children in the family. It's a useful, one-of-a-kind gift and you're sure to be very proud that you made it. When we present those, we love with pieces made by us, we convey all love and affection through this gift. And they will realize how loved they are.
Anyone who works with crochet knows how well clothing items work and how important it is to always be innovating and looking for different inspirations. That's why we are always bringing the best patterns for you to produce beautiful pieces. If you want, you can add details to this sweater. Crochet flowers or butterflies, satin ribbons. Your sweater will have a unique, personalized and very creative touch.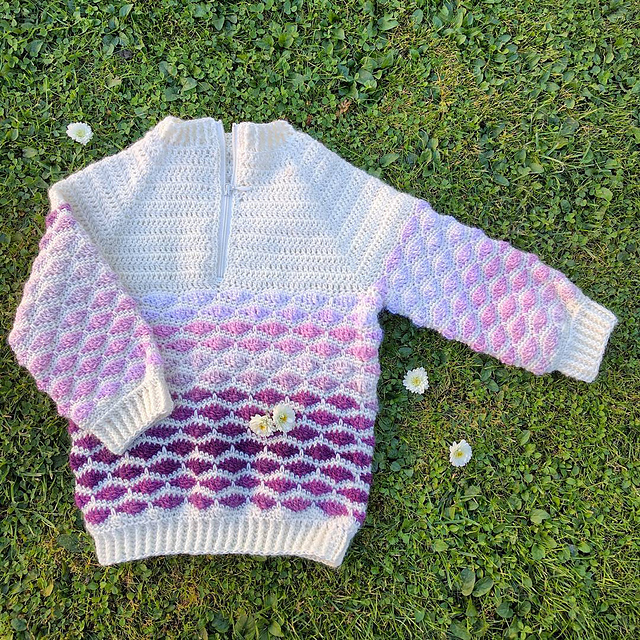 Woolly Weaves Baby Sweater
If you still don't practice crochet, we don't recommend starting with this piece. But once you have a little practice, you can start practicing the stitches and doing one part at a time. This pass is made by parts: yoke, body, wavy part, ribbing, sleeves, sleeve ribbing, and collar. Below you will find the list of materials needed. Remember that the yarn and crochet hook you choose can change the final size of the sweater. Here we pass the information of what was used in the pattern.
3.5mm hook (or whatever hook you need to meet gauge) plus a hook one size smaller for the ribbing sections;
Sock yarn/ fingering weight yarn in two colours: one solid and one variegated/gradient;
Zipper – but wait until the sweater is finished before buying one.
There are few materials needed and easy to find. The complete pattern you can find in Hooked by Anna. We hope you get the most out of this pattern. It is very detailed, with the step by step of each round, suggestions of lines and colors, in short, complete. Now that you know everything you need, let's start crocheting and make our children even more beautiful? It's time to crochet!