Bottle Holder – Crochet Free Pattern
Hello, it's great to see you here again to learn more crochet patterns, today's Bottle Holder. It's a very simple pattern to make your bottle look pretty and stylish, as well as being a great way to carry it around. The coolest thing is that you can make different models for any type of bottle.
The pattern is simple and uses only one type of stitch, making it easy to customize for different bottle sizes. You can make it for your little ones too, so they can take the bottles more easily to school, outings, afternoon games with friends. Customize according to your taste. Choose good quality yarn that doesn't stretch too much.
That way, the bottle holder won't stretch as much with the weight of the bottles. In the pattern you will find a variation of colors that make up the colored stripes. You can choose to make it in a single color, just follow the step by step and when changing yarns, keep the round with the same color.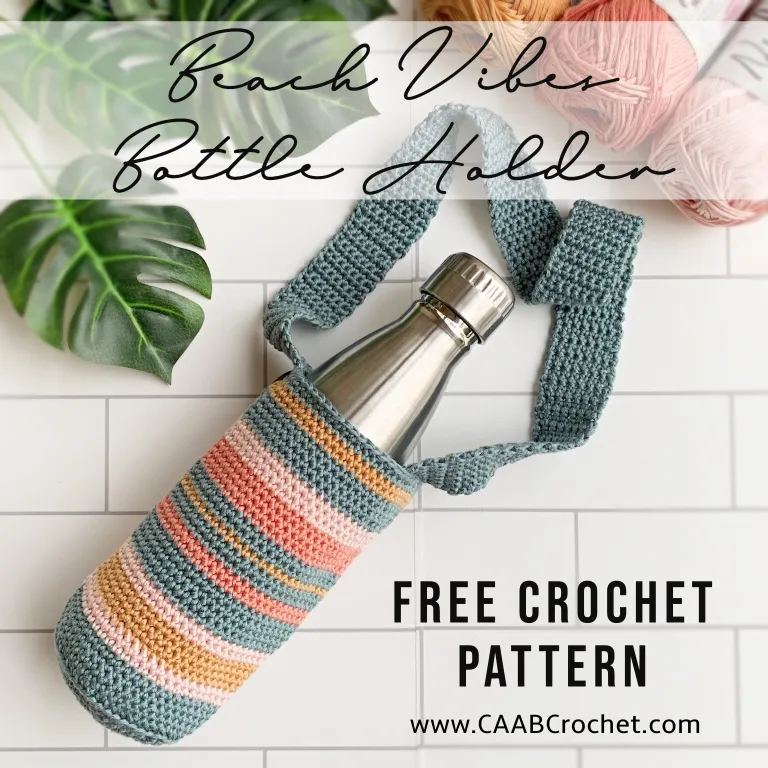 Bottle Holder Crochet
In the pattern, two general sizes of bottle holders are available. Even following the pattern, the size may vary a little. If the yarn chosen and the crochet hook are different from the pattern, it is normal to have changes at the end of the craft. The stitch will also vary for each person, some have the tightest stitch and some have the loosest stitch.
Neither of them is wrong, it's just each person's way of doing it. That's why it's important that you measure several times straight into your bottle. This way you can see if you need to increase or decrease the pattern rounds. These are the stitches you will use:
(ch) chain;
(sl st) slip stitch;
(sc) single crochet;
(sc blo) single crochet back loop only.
The complete pattern is available from CAAB Crochet, along with all yarn suggestions, size variations and additional information. Did you like this idea? Leave your opinion here in the comment box. We were very happy with your interaction. If you have suggestions for future patterns, please comment here as well. See you soon!