Crochet Mermaid Tail – Free Pattern
Hi my loves! Today we are going to learn a pattern that is super popular, especially among children and teenagers, the Crochet Mermaid Tail. Mermaids have been on the rise for some time, whether in drawings, clothing prints, makeup. This pattern is beautiful and has more than one use.
The little ones will go crazy with this pattern that, in addition to being beautiful, will make them warm and cozy. This pattern is like a crochet blanket, closed and with details that resemble a mermaid's tail. And success will not only be among the little ones, everyone will want it. It's that piece that hugs you, snuggles you at the end of the day, on the cooler days.
Perfect for keeping warm during a movie, reading a book or outdoors. You can take a chance on colors and make very colorful combinations. Mermaid tails do not have a specific color, take the opportunity to use all your creativity. Choose yarns that have quality, are soft to the touch. In craft stores, we always find a wide variety of options, we are even a little confused and want to take them all.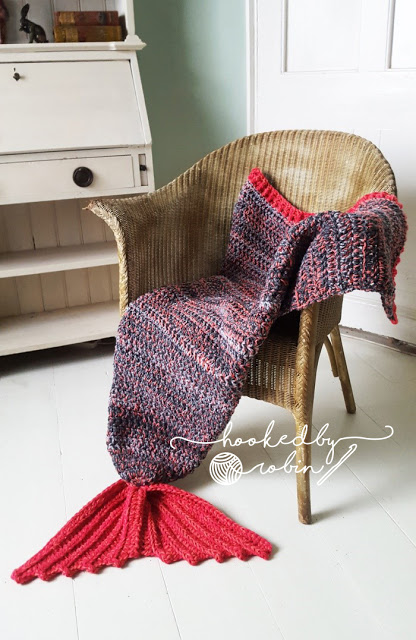 Image / Pattern / Tutorial: Hooked by Robin
If you already have a little more practice in crocheting, you can make the mermaid tail all colored, in stripes of different colors. The pattern is done in rounds, so increasing the size is not difficult. Have you ever thought about gifting a friend with this piece? There's no way she can't love it. Child's birthday? You already have the gift too, beautiful and very useful on the coldest days.
The mermaid tail crochet pattern is available at Hooked by Robin, with the step by step, video, stitch tips, yarn suggestions and materials you will need. I hope this pattern is as successful there as it did here. Tell us here in the comments how it went, if you liked it and if you have new suggestions. Practice a little every day, your evolution will be visible and you can be proud, your work is an art!