Little Dreamweaver Crochet Blanket
Today's pattern is charming and much requested around here, the Little Dreamweaver Crochet Blanket. Cute, warm and cozy, the crochet baby blanket is an essential item in any layette and can be a great gift for a baby shower. And the best part of this story is that you can do it yourself, even if you don't have any experience with the technique. After all, crochet is an art accessible to everyone.
Crochet is very simple in terms of the list of materials needed. That's because you will basically need yarn and needles. In the case of threads, it is very important to pay attention to the thickness of the thread, in addition, of course, to the softness. Always choose lines suitable for use on babies, as they are hypoallergenic.
If you are new to the technique, the tip is to use only one color and light colors to better see the point and check if everything is right. The needles used in crochet must match the type and thickness of the thread. When in doubt, always consult the thread packaging, as the manufacturer informs the most suitable needle number for that type of thread.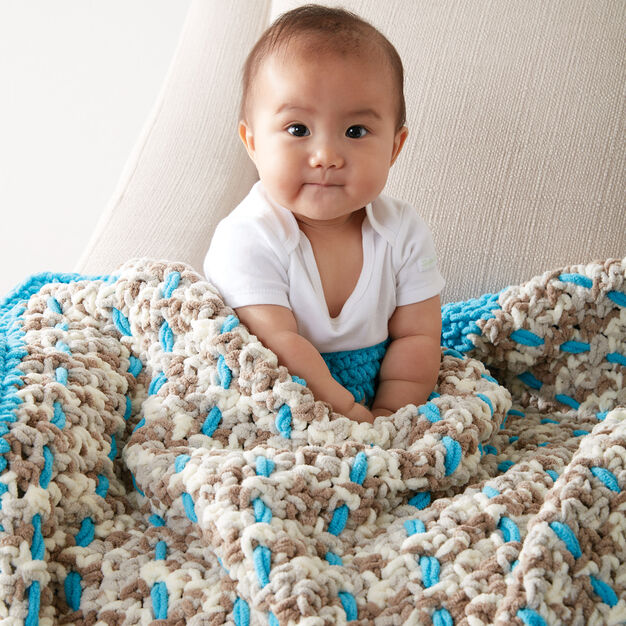 Crochet Blanket Pattern
The blanket will measure approximately 38″ [96.5 cm] square. Because it is a square, if you want to increase the size of the blanket, increase the number of chains, you will see that it is simple. The abbreviations are simple, easy to understand and are described below.
Approx = Approximately;
Beg = Begin(ning);
Ch = Chain;
Rep = Repeat;
Rnd(s) = Round(s);
Sc = Single crochet;
Sl st = Slip stitch;
Sp(s) = Space(s);
St(s) = Stitch(es).
As much as the yarn you choose is of good quality, some care is essential to keep your work beautiful for longer. As it is a delicate item, do not use bleach or iron the blanket. It is also recommended not to dry clean. Always machine wash in cold water, delicate environment. If you choose to tumble dry, choose a low heat, gentle cycle. The pattern with step by step, yarn tips and important information is available at Yarnspiration. Don't forget to comment what you think of this crochet blanket. Very nice to see you here again. Now, time to crochet!