Adult Crochet Crew Neck Pullover – Free Pattern
So nice to have you here once again to learn new crochet pieces and today the pattern is for men, Adult Crochet Crew Neck Pullover. These models are always very requested around here and we love to bring them to you. This pattern is a classic, a piece that goes very well with several different looks. It looks very elegant combined with a dress shirt.
It is common to choose more discreet colors for men's pieces. Choose yarn in shades of grey, dark green, blue, black or beige. These colors go with everything, a great option to have in your wardrobe. In addition to being very beautiful, this piece is also a great ally for colder days. Choose a thicker, good quality yarn. If you have any doubts when choosing a crochet hook, you will find the best suggestion in the packaging of the thread.
You can make this piece and give as a gift on Father's Day. It is an outfit that never goes out of style, has great durability, and is unique. Pieces made by us always have an extra affection. The time dedicated to doing this should be put to good use. Read and understand the pattern before you start making it, so you won't have doubts in the middle of the piece.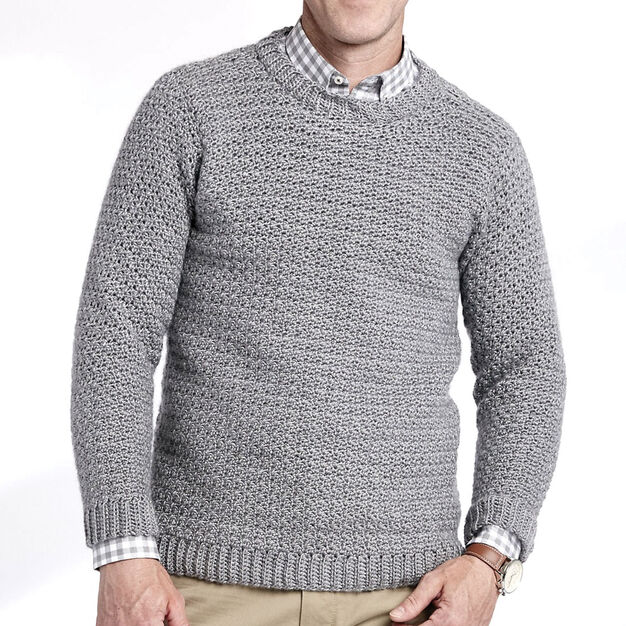 Adult Crochet Pattern
In the pattern you will find the piece in six sizes. See the measurements and choose the one that best suits your needs. The part level is easy and the materials are pretty basic too. This is one of the best parts of crochet, few materials to make wonderful pieces. Sizes are described below.
Finished bust/chest
Extra-Small/Small 37″ [94 cm];
Medium 40½" [103 cm];
Large 44½" [113 cm];
Extra-Large 49″ [124.5 cm];
2/3 X-Large 55″ [140 cm];
4/5 X-Large 63″ [160 cm].
You can download the PDF in Yarnspiration, with all the tips to make this beautiful piece. I'm sure after the first one, you'll want to make other colors. If you are going to make it to sell, prepare for all orders, it will be a success! Tell us what you think and leave new suggestions. See you next time!