Round Granny Pillow – Crochet Pattern
Hi, time to change the decor of the house with beautiful pillows, the Round Granny Pillow Crochet Pattern. This is the easiest and cheapest way to change the environment. Plus, everyone likes to snuggle up on a fluffy pillow. Square pillows are the most classic and common to find. That's why we wanted to bring a different shape, round pillows.
They look as beautiful in the environment as the square ones. You can also mix the pads, round and square. It looks beautiful and very stylish. The pattern is not difficult to adapt, so you can make bigger and smaller pillows to make up the sofa decor. The pillow looks very nice on the beds too. Opt for shades that match the environment.
How about making it for the children's room? You can make large pillows and place them on the floor, so they are protected when playing. In the photos you can see two very different options, a more sober color and a very colorful one. Both are very beautiful and don't look the same just because of the difference in the chosen yarns. That's why we tell you that color makes all the difference in the final result.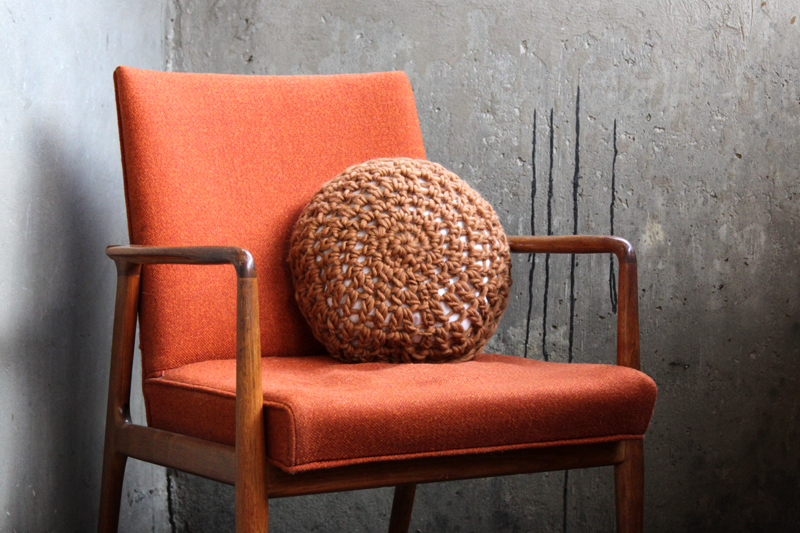 Round Granny Pillow Pattern
Let's talk about the materials and abbreviations you need to understand before starting the pattern. Always remember to read well and understand the pattern, so you don't have doubts and have to stop work in the middle. Crafts need practice and dedication like all hobbies. If you make crochet pieces to sell, have the same thought. Enjoy this time and do your best always.
Abbreviations
sc – single crochet
sl – slip
rnd – round
X ch – X indicates the number of sts now in the round
ch – chain
2 in 1 – work the listed crochet stitch twice in one stitch
hdc – half double crochet
dc – double crochet
magic ring – video tutorial
whip stitch – tutorial
The complete pattern, with all the tips you need to know, is available at Hands Occupied, free of charge. We hope you put all the tips into practice and enjoy making lots of pillows. Don't forget to leave a comment with your opinion about this pattern. Soon we will bring more patterns for you to rock crochet!