Bernat Oval Rug – Free Pattern
Hey loves! Good to see you here once again. A new month is starting, the last of the year. That's right, in a little while we are in a new year and we have already started to make new projects, create goals and objectives. How about learning a new craft? If you still don't know how to crochet, how about starting the year making Bernat Oval Rug? This pattern is beautiful and very simple, perfect for anyone who wants to start learning this technique.
Many people started crocheting from rugs. In addition to making our house more beautiful and tidy, depending on the room, they also protect the floor from splashing water. For those who have already learned to make straight pieces, such as square or rectangular rugs, oval-shaped pieces are the next step, as this shape mixes the two most important techniques of this craft method: the straight line and the curve.
The oval crochet rug can be used in different environments in your home, from the living room, kitchen, to the bathroom and bedroom, making your space comfortable and beautiful. The oval crochet rugs can be used in the most diverse rooms in the house, such as the bedroom, kitchen, living and dining room and the bathroom. In addition to beautifying these environments, the oval crochet rug also makes them cozier. It also has other uses, such as providing thermal comfort to places with cold floors and serving as a surface to dry your feet.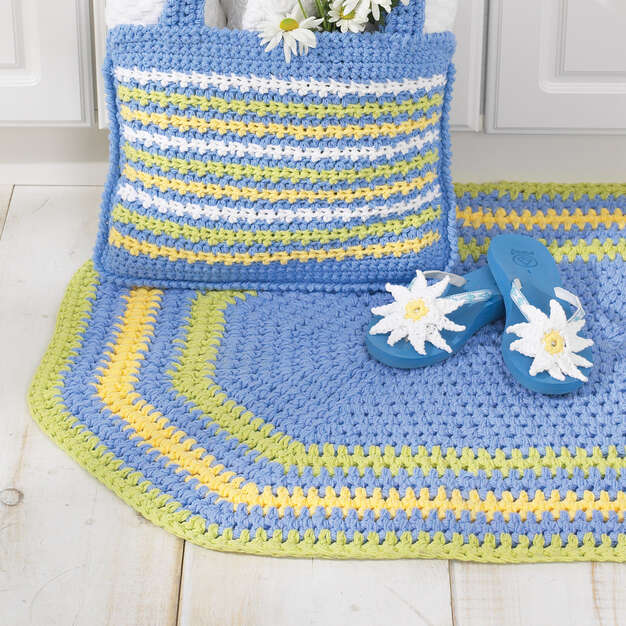 Image / Pattern / Tutorial: Yanspirations
In addition, a decoration where the oval crochet rug for beginners harmonizes with other items made with the same artisanal technique. Tablecloths, blankets and pillows make the environment super beautiful and pleasant. There are several models of oval crochet rug, many indeed. Some have the most open points, others have the most closed points. There are some that have a beautiful crochet beak detail, there are still varieties of string, which can be thicker or thinner.
The oval crochet rug can also be monochromatic or a beautiful example of a colorful oval crochet rug, even matching a crochet placemat used on the dining table. There are many ideas, and from the Bernat Oval Rug pattern, available at Yarnspirations, you can create and play with the colors, the strings. Use your creativity and make the most beautiful combinations. Enjoy the colors of the environment too, we always get beautiful ideas. Come crochet together with us.