Follow Your Heart Crochet Blanket
Hello, it's great to have you back here to learn this new pattern we're bringing you, the Follow Your Heart Blanket. This blanket is very beautiful, every detail made with love. There are several hearts of different colors that form this beautiful blanket. You can follow the pattern in the same way, one line of each color, intersperse the colors, keep the same color or change the tones. For the bottom of the blanket, gray color is suggested.
Regardless of the colors you choose, try to make the blankets stand out by choosing a background color that doesn't steal the attention of the piece. This pattern is beautiful for babies, as it is a very delicate blanket. Have you ever thought about making it in pastel tones that match the decor of the room? It will be very cute. Choose good quality yarns that will withstand washing.
The crochet blanket is one of the most popular models on the market, precisely because many associate its use with children's room decor. The interesting thing about the crochet baby blanket is also the fact that it is a model that helps the child sleep, since its fabric is usually very soft and comfortable.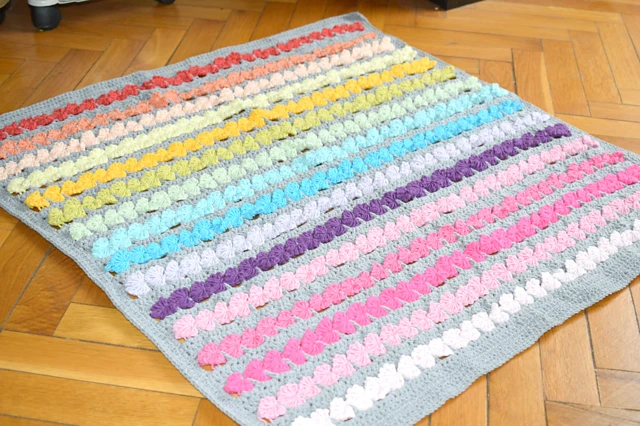 The materials of crochet crafts are usually the same, crochet hook and yarn. In the pattern we have some suggestions of yarns and needles used. The thickness of the needle and yarn often changes the final result of the stitch, so to ensure the pattern is the same size, here are the following points:
Gauge – 8 stitches and 4 rows = 10 cm in double crochet;
Hook size – 3.5 mm (E);
Yardage – 800 – 1100 yards (732 – 1006 m);
Suggested yarn – YarnArt Jeans; Scheepies Stone Wasbed.
You can find the complete pattern at Raverly, with all the information for you to crochet this wonderful blanket! We are always happy to see you here and to be able to bring patterns that you like. Now let's get the yarn and the crochet hook and get to work. It's a crochet time!