Crochet Teddy Bear Pot Cover
If you love plants and love crochet, we're sure you'll be enchanted by this pattern, the Crochet Teddy Bear Pot Cover. Crochet is a very versatile craft and this pattern is further proof of that. The crochet pot cover comes to make your plant even more beautiful. Cover the plant pot and let everything match. You can do it with the colors that best match your environment.
Making a crochet pot cover is a great idea for those who are starting to venture into the technique. This is because it is possible to make it using only basic stitches. Also, if you choose to use a thicker thread, the job is done in no time! After you finish your crochet pot cover, you can decorate it with fringes, bows, buttons, pompons and even flowers.
Simply sew with a needle and thread or use fabric glue. Thus, you get an even more stylish and personalized result! Loved the pattern but don't want to make it to cover or decorate the potted plant? No problem, it's a great option to organize hygiene and beauty products in the bathroom or even be used as a pencil holder in your office.
Crochet Pot Cover Pattern
This pattern is suitable for 10-11cm diameter pots. The potted plants have different sizes and you can change the size of the pot cover, this is not complicated. For this type of pattern, it is important to use lines more roughly, which give more structure to the piece. Before getting started, below is a list of abbreviations needed to understand the pattern:
*…*: repeat stitch pattern as indicated
(…): number of stitches in the round
bl: back loop
blo: back loop only
bp or BP: back post st (e.g. back post double crochet is bpdc)
CC: contrast color
ch: chain
ch sp: chain space
dc: double crochet (US terminology)
fl: front loop
frog: to undo/pull out your crochet stitches (rip-it, rip-it…)
fp or FP: front post st (e.g. front post double crochet is fpdc)
hdc: half double crochet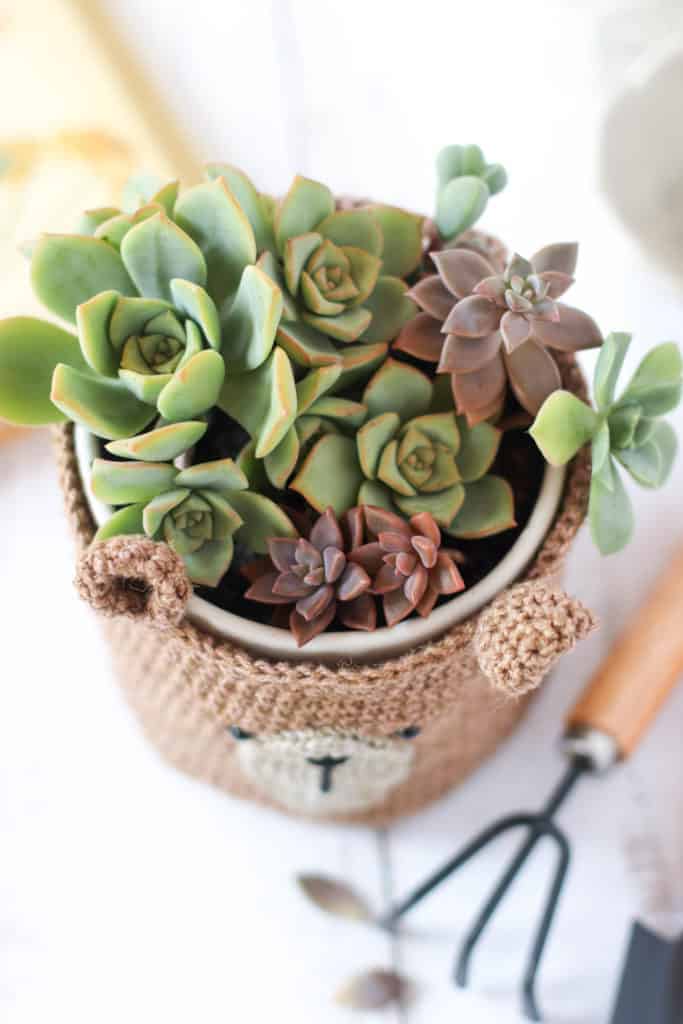 You will find the entire pattern at Thoresby Cottage, with step-by-step, thread and crochet hook suggestions for this piece. Crafts and flowers are a very beautiful combination. We hope you do a lot of pot covers, it will be a success. Come on, it's crochet time!