Amazing Crochet Rug with Flowers
Crochet rug with flowers is always a great way to renew your home decor in a simple and practical way. Crochet is a classic technique and very present in homes. You can add flowers to the composition and you will have a unique and sensational piece. That will resul in a very beautiful rug that will brighten up your home.
There is no rule to use it in decoration. It can be placed in the living room, kitchen, bedroom, entrance of the house, hallway, among others. Make use of its versatility and elegance. You can do it in a variety of formats. There is round, square, oval, large and small models. The rug crochet flower does not always need to be produced directly on the crochet rug. You can customize any rug you already have at home using the crochet rug for rugs, whether it is a crochet rug or not.
If you decide to use crochet rugs in the bathroom, in addition to being a beautiful decorative item, it also has the function of protecting us from the cold by not having to step on the frozen floor. To use the crochet rug with flowers in the bathroom, it would be interesting to add non-slip mats at the bottom.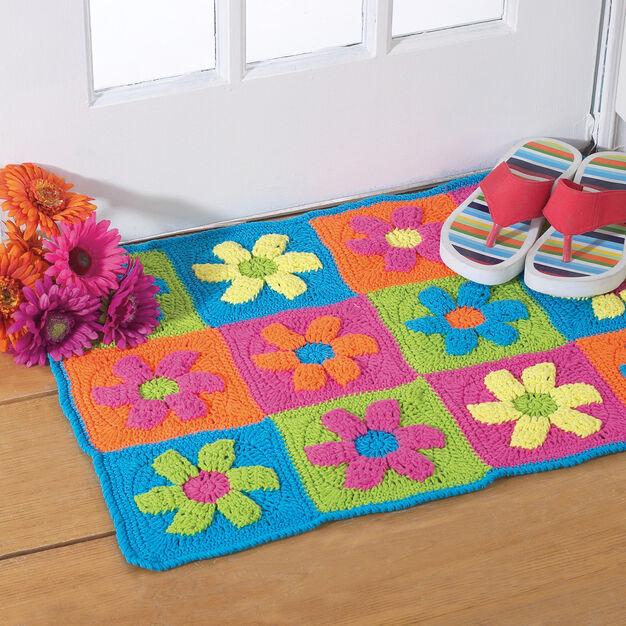 Threads for the Crochet Rug
The most common thread for crochet rugs is string. This is because this type of wire is thicker and provides greater durability in the piece, which will be used on the floor after it is finished. There are a variety of string types that allow you to create rugs for all tastes and occasions.
Check the pattern we've separated for you, get inspired and start crocheting!
These beautiful flowers can be made and then added to the rug.