Diamond Crochet Dress – Free Pattern
Hello my loves! How are you spending the week? We hope all is well, with lots of crafts and colors every day. Here we have already separated another pattern that you will love and want to start making, the Diamond Crochet Dress. It's that casual, loose, light and cozy dress. A perfect piece to wear in the late afternoon, go out to dinner, wear on festive occasions.
It is a very comfortable dress, a looser model to make you very comfortable. Crochet is definitely on the rise! Never have croppeds, bikinis, blouses and dresses made from this material been so successful. Whether short, midi or long, the crochet dress is guaranteed success. With this pattern, you can change the length of the dress, increasing or decreasing the number of rows, as simple as that.
When yarns, choose the ones that you like the most in touch and colors. For a flashier look, you can choose more vibrant colors, or more sober colors for more discreet looks. Whatever the color, we are sure the result will be a success. You know that dear friend? Perfect option to gift it, make it even more beautiful and can be the perfect option to start offering your crochet pieces.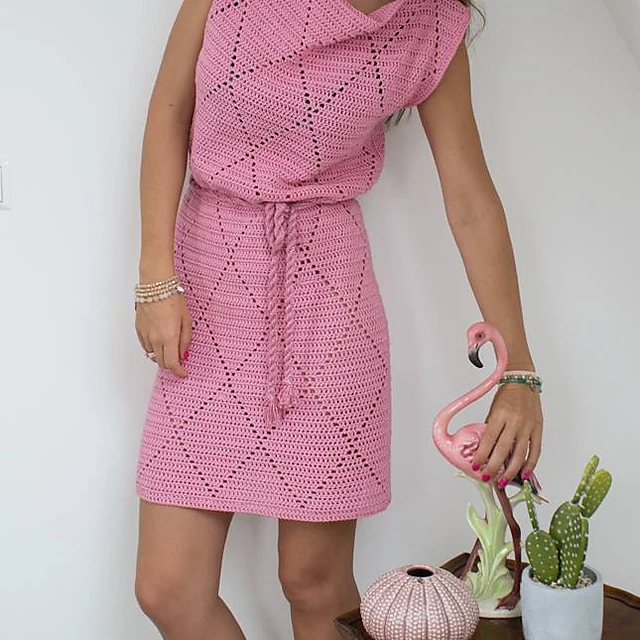 Image / Pattern / Tutorial: Ravelry
The materials needed to make the diamond crochet dress are basic, yarn, crochet hook and scissors. The pattern is available for download on Ravelry, with steps and suggestions from yarns. We are always very happy to have you here, we are unveiling together new patterns, new pieces and models to continue making the most beautiful handcrafts.
Tell us here in the comments what you think, what it's like to venture into new crafts. I'm sure your experience will encourage other artisans to start or continue making such beautiful pieces. Enjoy that the weekend is coming and already separate the materials to make this beautiful dress. Let's crochet!