Fabulous Fall Wreath – Free Pattern
Hi my loves! We missed you guys. Did you take the opportunity to practice during these days? We hope so, and if you're already out of ideas, don't worry. We've separated and tested some patterns and we're looking forward to sharing them all with you. Let's start by learning the Fabulous Fall Wreath, an incredible model that you will fall in love with. The garlands are beautiful accessories that we can place on our door.
It makes everything more charming and personalized. The garland is widely used to decorate the front door of houses and establishments as a way of attracting prosperity and abundance, as well as welcoming visitors. However, anyone who thinks that the wreath needs to be just outside the house is wrong. On the front door, decorating the living room wall, maternity door, weddings and decorated tables, the wreath enchants and transforms wherever you are.
Wreaths can be themed. This model is perfect to wear during autumn. Because it is a classic theme, you can use it on other occasions as well. Decorated all with pieces made in crochet, it's a charm. In the pattern you will learn seven different pieces to assemble the wreath. You learn to sew them into the wreath too. When assembling, you can place them the way you prefer.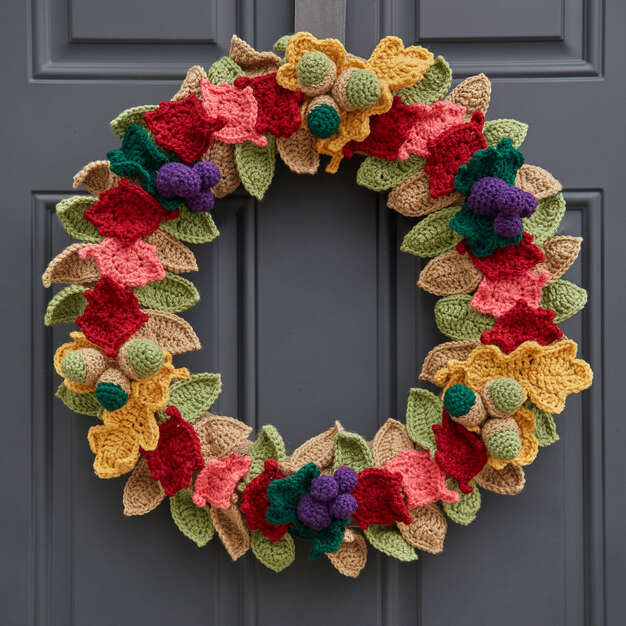 Image / Pattern / Tutorial: Yarnspirations
As for the colors used, we can follow the same color palette as the pattern. If you've done other crochet projects, how about using that yarn left over to make one of the pieces? The important thing is to contrast the colors so that everyone stands out. The cool thing about these projects with small parts is that you don't have to do everything at once.
You can take it with you and whenever you have time, make one of them. It's a great gift option, think of a dear friend who would like to decorate her home. You can offer and sell too. It is a handmade piece, sells very well. Put a fair value on your work, value your time. It is a unique craft work.
And therefore, choose quality materials to enhance these qualities. The complete Fabolous Fall Wreath pattern is available at Yarspirations, with step by step, materials list and suggestions. Did you like it? We think this pattern is very beautiful and it will be very successful out there. Tell us what you think here in the comments. Let's crochet!