Vintage Fan Ripple Stitch
The Ripple Stitch is beautiful and not difficult to make. As with other crochet work, the thread can determine the use of the piece. If you want to make a rug, opt for string. To make a blouse or dress, go for softer lines. If your choice is a baby blanket, wool threads are highly recommended as they are soft and warm. In any of these options, the stitch will be beautiful and will enhance the beauty of the piece.
It can also be a great choice to use on sofas or chairs as a decor item. As with other crochet pieces, choose colors that complement the environment. This point allows you to make different shapes, squares, circles and even stars. Depending on the color combination chosen, your piece will have a very charming 70s vintage effect.
To start you need to set the number of currents. If the number of stitches is greater, in the end you will have less angular stitches, in the shape of waves. If you choose to make more stitches, in the end the shape will be more angled, more pointed, basically forming a zig zag. Both formats are beautiful and result in wonderful pieces. I particularly recommend taking a test run and then choosing which one best suit the piece you're making.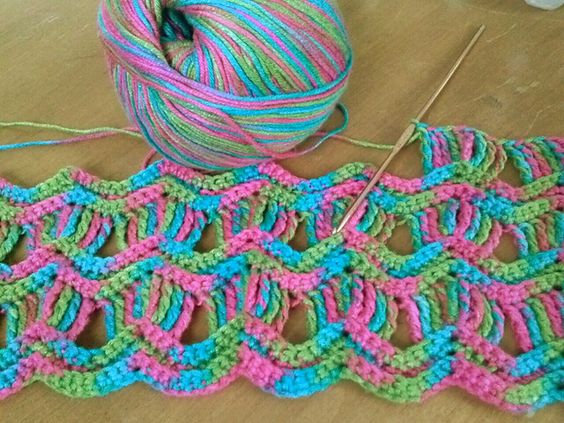 Ripple Stitch Pattern
The hole pattern, available below, was design by Janis Cortese. You can also find a video tutorial in Crochet Loves. Grab the materials needed and start crocheting!
You may have questions when choosing a crochet hook, if you don't have one yet. Choose your thread first, usually manufacturers indicate the needle numbering according to thickness. It makes it much easier. With everything chosen, time to start crafting. Our team always advises you to read and understand the step-by-step or watch the video before starting the piece, in addition to having everything you need at your fingertips. By following these tips, you can avoid unnecessary stops and make the most of your available time.