How to Crochet a Granny Square
Granny Square is a great practice for those just starting out in the art of crochet. If you already have more practice, it's also a great option for letting your creativity flow, creating new spots or practicing some that require more skill. You can make squares big enough to create pieces for the environment. Granny Square can become a beautiful pillow to color and harmonize the environment. Another excellent option is to transform this work into a beautiful rug.
The pattern we've brought you today is great, but it's not difficult for that, don't be scared. This model is for those who have never picked up a needle and yarn. You have the tutorial to follow, step by step. The materials are also simple, you only need a crochet hook, yarn and scissors.
You will see that granny square is made by completing rounds, but it is not a spiral because you will finish the round before starting the next one. The traditional one is made with three crochet stitches, the chain, double crochet and slip stitch. Once you learn, I'm sure you'll want to create and explore new spots. In addition to the stitches, feel free to explore the types of yarns, you will see that they make a lot of difference in the final result of the craft.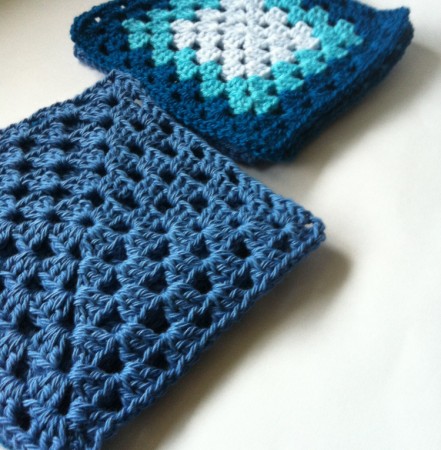 Granny Square Pattern
Let's learn some abbreviations before starting work, it will help you understand the pattern:
yo = yarn over – place the yarn over your hook from back to front;
ch = chain;
dc = double crochet
st ch = starting chain – a number of chain stitches used in place of a dc to begin a round.
In Crochet Designs by Shelley Husband, you'll find the hole pattern with video tutorials and PDF.