Rosebud Throw Blanket – Crochet Pattern
Blankets are never too much! In addition to being great for snuggling up on the coldest days, they are also beautiful to decorate the environment. Thinking about making our home more and more elegant, we brought the Rosebud Throw pattern. This blanket is a charm. Extremely elegant, it combines with sophisticated decor environments.
The colors chosen combine very well and bring more charm to the piece. It's not a very easy pattern. If you don't have much practice in the crochet technique, we don't recommend starting with this pattern. This blanket requires more technique, different points that you may not be aware of yet, but don't make it difficult.
You should have some yarn left over from other projects. Train the stitches that the pattern asks for, do a little bit every day. At the end of the week you will notice your evolution. Once you feel confident, understand all the stitches that the pattern calls for and like the result of your training, it's time to start the blanket. So, you can practice without spending the new yarn.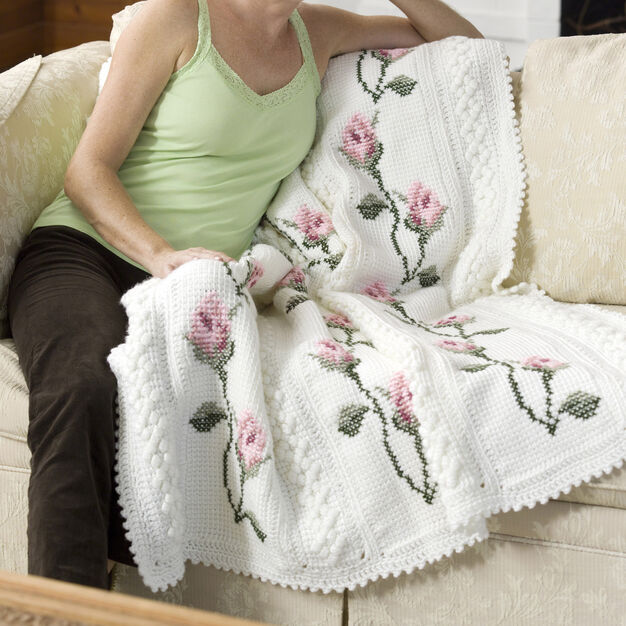 Image / Pattern / Tutorial: Ravelry.
It was always like this here, after I felt safe, I started making the patterns and I really liked the result. I hope it's the same for you. Crafts also need practice, there's no escaping it. Take this time for yourself, put on a song that inspires you, a movie, and get to work. The complete blanket pattern is available from Ravelry.
You will have access to the step by step, material suggestions, abbreviations that are used in the pattern. We are very happy to be able to bring you new techniques and new patterns to inspire you and make our crafts grow more and more. Let's value our work, it is beautiful and we should be proud. Let us know what you think, what it was like to make this blanket. We are here to help each other. Let's crochet!?