Maple Star Quilt Block Pattern
The Maple Star Quilt is a classic quilting block. It is simple to create and versatile to use. This quilt block will be formed from a combination of rectangles, squares and flying geese blocks. It may seem more complicated to do than it really is. The balance of rectangles and squares gives the block a graphic feel. The block is made up of several "layers", a great way to personalize your piece and give your quilt a unique touch.
I love the way it looks and is much quicker to piece that it looks. It is an easy nine patch block composed of simple shapes: the square, rectangle and triangle. The flying geese unit in the quilt block is the one that creates the star in the title of the pattern. The interest to the block comes more from the color placement of the fabrics than the quilt block design.
As for fabrics and colors, we have a multitude of options. You can choose to make a star of the same color and vary in tone. Depending on the environment in which you will use the piece, choose colors that enhance the decor. This block can also be made in different sizes, it all depends on your objective. A quilt with several blocks of Maple Star will also make anyone fall in love. For me, it's one of the most beautiful patterns for making quilts.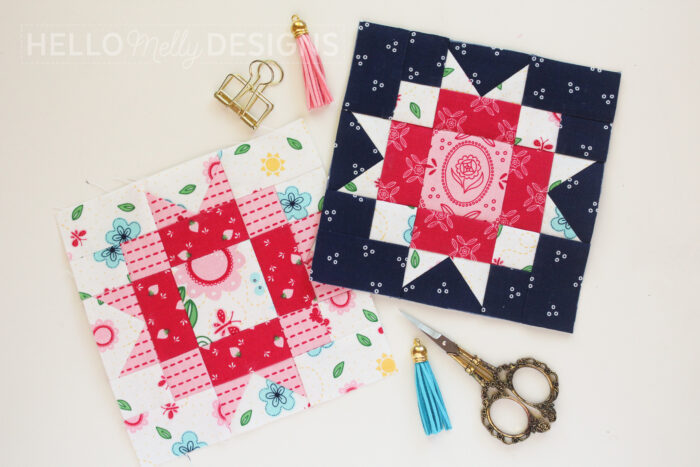 Some tips that are always important to remember is to always scratch the fabric on the wrong side, so as not to leave any stains on your work. You can also wash the colored fabrics to make sure one won't stain the other at the end of the job. In addition to preventing staining, washing the fabric that will be used also gives a sense of whether the fabric will shrink too much. Don't forget to separate all the necessary materials before starting. Will avoid that rush to the handcrafts store.
Below you can see the graph that we brought to give you a better idea of ​​how many different fabrics are needed and their arrangement. You can find all the pattern in Tara Reed. We hope you love it!