How To Make a Shadow – Mini Quilt Pattern
With this pattern you will learn How to Make a Shadow in your mini quilt. The pattern is one block size, but the technique can be applied to various quilt sizes. Once you understand how to make the shadow, it will be easy to adapt to other pieces. It's easier and more noticeable when we cast the shadow on straight pieces, like squares and rectangles.
The shadow effect is also very cool, it looks like the piece is in 3D. And these quilt blocks can be used to decorate the walls of several rooms, having the same function as a painting. Choose colors that match the environment. Blocks like these, which have a more chic pattern, look great in more serious rooms. You can use them in your office, waiting room, study room.
It blends in well with these environments and is easier to maintain because they are easy to wash, dry quickly, and are immediately placed on the wall. You can make a combination of blocks, two or three, with the same print and pattern of shadows but different shades. It's just like those combinations of frames, a knockout.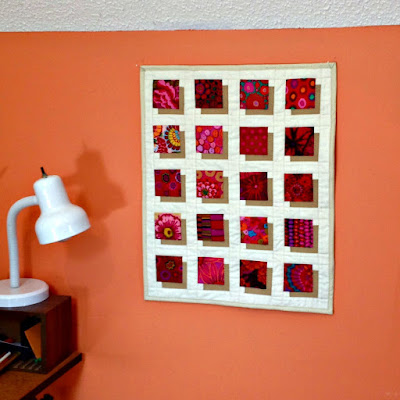 Image / Pattern / Tutorial: Studio Dragonfly Quilts
For this pattern, you don't need a lot of fabric. And if you already have some scraps lying around and you like the pattern or color, use it to make the squares of the block. Another detail that makes all the difference is the background color. You can make it white, as the default.
If choosing another color, remember that both the shadow and the square must be in accent colors, which contrast with the background. The complete pattern, with all the measurements, step by step, amount of fabric and how to make the shadow is available at Studio Dragonfly Quilts.
Let us know what it was like to make this mini block quilt in the comments. So, you also inspire other artisans. This is our meeting and learning space. We are very happy to have you here!