Mandala Crochet Doily Rug – Free Pattern
We already know that crochet rugs are beautiful and make all the difference in the environment, but this Mandala Crochet Rug will inspire you to create new pieces. This is that rug you can't help but want to make. It makes a difference in the decoration of any environment. Check the approximate size of the rug in the pattern and see where it will fit.
From there, choose the colors that best match the environment and choose the type of yarn. The round crochet rug is the most traditional shape, but that doesn't make it a common piece. Each pattern has a different detail that makes the piece unique. Be it the stitch, the yarn and its color, some added detail, flower, fringe, pompom.
All this makes your piece more special, personalized. This piece of craftsmanship is very practical because it combines with all styles of decoration, from the most sophisticated to the simplest environments, in addition to being possible to combine it with other handmade pieces. The crochet round rug can be made with various types of stitches and always starts at the center of the piece.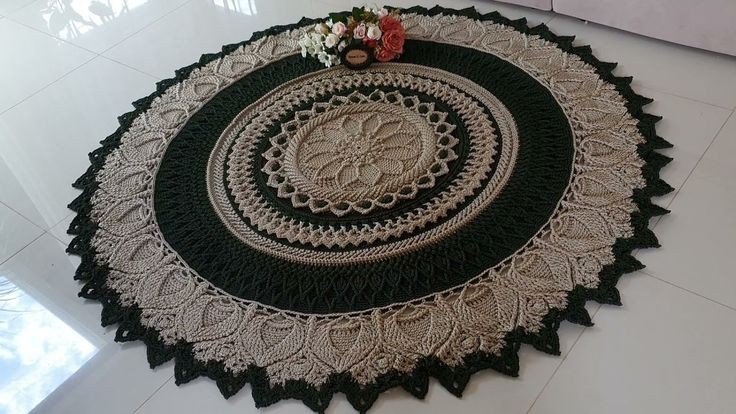 Image / Pattern / Tutorial: DIYfashionhub
To create a cozy atmosphere, many decorators use the crochet round rug in living rooms and bedrooms. Round crochet rug pieces made from string often decorate toilets, kitchens and bathrooms, as in these places the humidity is constant. One of the advantages of crocheting the rug is that you will spend little money to make it, since the materials for crocheting are inexpensive.
Not to mention the pride you will feel when you have the piece there, finished and full of charm. Everyone likes to decorate the environments of their home and making pieces like this only convey all our affection for the people who live with us.
To make the Mandala Crochet Rug, you will need 700g of 100% cotton yarn. This is the thread used in the pattern and serves as a suggested thread for you to use. We always say that both the thread and the choice of color are personal, so choose the ones you like the most.
You can find the pattern at DIYfashionhub, with the step-by-step two extra stitches. You will love doing this piece. Don't forget to let us know how it went in the comments, we look forward to hearing from you. Now, let's crochet!