Silva Doily a wonderful piece to decorate and make the environment even more beautiful, as it is always a joy to be able to make something so beautiful that it helps in the decoration of your home. Perfect to highlight and make the house more cheerful, as well as organized too. As it is a crochet doily, it is very interesting to use in spaces such as the dining room, offices and living room, thus gaining a very beautiful highlight. Silva Doily a beautiful piece of handicraft, as they are essential for decorating a house. However, in addition to giving a more beauty, it is very cozy.
For any dresser in the house can be highlighted what is great. For example: in the center of the living room, the couple's bedroom or even in the bathrooms, the crochet doily gives a very beautiful and charming touch too. Well, the doily gains cheerful and lively colors that everyone loves for being a charm. Above all, thematic figures, star shapes and many others that everyone loves. A perfect job to make and give someone you like a lot, besides, with little material.
When separating the materials, first of all, the colors described here is just a suggestion. Even because, each person has their own taste, and some like to match the furniture, since it is even more beautiful and complete. Prepare all your material, so it will be easier for the execution.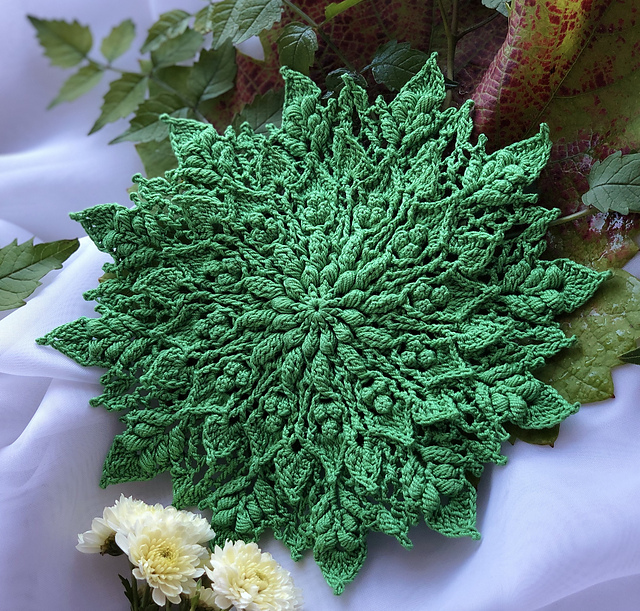 See Also:
➽ Pattern Amigurumi Snowman
➽ Crochet Easy Baby Sweater
➽ Diamond Charms Quilt
Silva Doily
Pattern/Images/Tutorial: Viktoriia Gul's
Materials Used
Crochet thread of your choice And a matching crochet hook.
Yardage
120-130 yards
Finished size
8″ in diameter
STITCH GUIDE
CH – chain
SLST – slip stitch
SC – Single Crochet
HDC – Half Double Crochet DC – Double Crochet
YO – Yarn Over
CSDC – Chainless Starting Double Crochet (can replace with CH 3): Pull up the loop on the hook to the height of a normal DC stitch, hold the elongated loop in place on your hook with your finger and wrapping the lengthened loop around your hook , YO pull through the double strand on your hook, YO and pull through the remaining 2 loops on the hook to complete.
EDC – extended double crochet
TR – Treble (triple) crochet – 2YO
ETR – extended treble (triple) crochet DTR – Double Treble – 3YO
FP – Complete stitches around the front post of stitch indicated. BP – Complete stitches around the back post of stitch indicated.
SPLIT – two stitches together (like a decrease). Holding last loops of both stitches, make the first stitch in the first indicated stitch, then make the second stitch in the next indicated stitch (3 loops remain on hook). Yarn over, take thread and pull through all three loops.
POPCORN – complete the numbers of stitches into the stitch or space indicated, then drop the loop from the hook, place the hook in the first stitch of the popcorn set, grab the dropped loop, and pull it through.
[activecampaign]
CLUSTER – a set of indicated stitches joined together with the top all made into the same base (ST or space). Holding back the last loop of all stitches in cluster set, complete the number of stitches into the stitch or space indicated, yarn over, and pull through all loops on hook.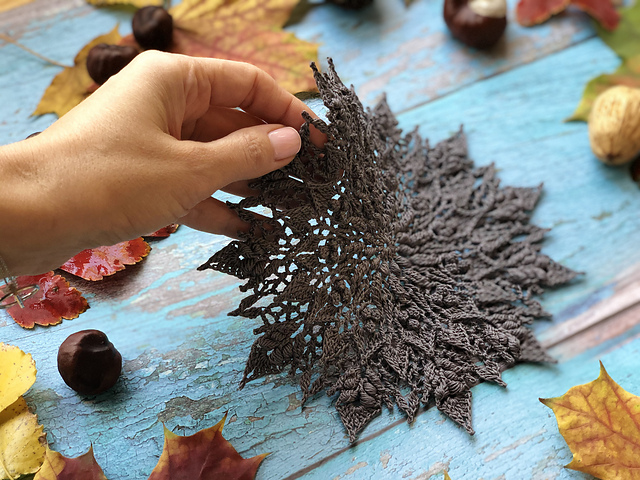 Our Team's Opinion About This Pattern
Silva Doily, a beautiful doily with a perfect touch that I'm sure you'll love because it will help you a lot when decorating your house. This piece has beautiful charming details that will make your home ready for receiving your friends and your family, i'ms sure they're gonna love it too. This is a piece that is always needed, that's why it is so famous and required. This piece will surely make your customers want one like it, which will help you in sales!!
Want to craft this amazing Ocean Silva Doily? Then set aside all your material and tools before starting your piece so that you already have everything close at hand, this way it'll be easy to carry out this project, follow the tutorial carefully, make your piece while following the tutorial and I' m sure that you will be able to make this amazing work easily.