Holiday Trees Crochet Pillow
Holiday Trees Crochet Pillow, a pillow with a beautiful and charming design that I'm sure will delight you. It's a very beautiful piece that can be made easily which helps a lot. You can add a new touch to the decor to improve everything. This pillow has a very charming and stylish Christmas look that you will absolutely love. One of the jobs needed to leave our house in the Christmas mood with a beautiful, festive, happy and fun look. Christmas is a special event where the whole family will get together to celebrate the holidays with the family, even for the ones we hope for at the end of the year, which are the Christmas festivities.
Time to be among the people you love, to celebrate life and love. Decoration at this time must be well prepared to receive the people we love with a lot of style and charm, you will love it. And with creativity and simplicity, it is possible to prepare the house for this great gathering of joy and love. Holiday Trees Crochet Pillow, for those who are already preparing for the end of the year, this beautiful piece can be an excellent choice in decoration.
What gives the cute and charming touch is the design of the pillow, which is a piece that can be used together with the decoration, making this piece even more versatile. Using your creativity and skill, you can leave it well decorated and charming for this time of year. In a cheerful and simple way it is possible to make beautiful pillows.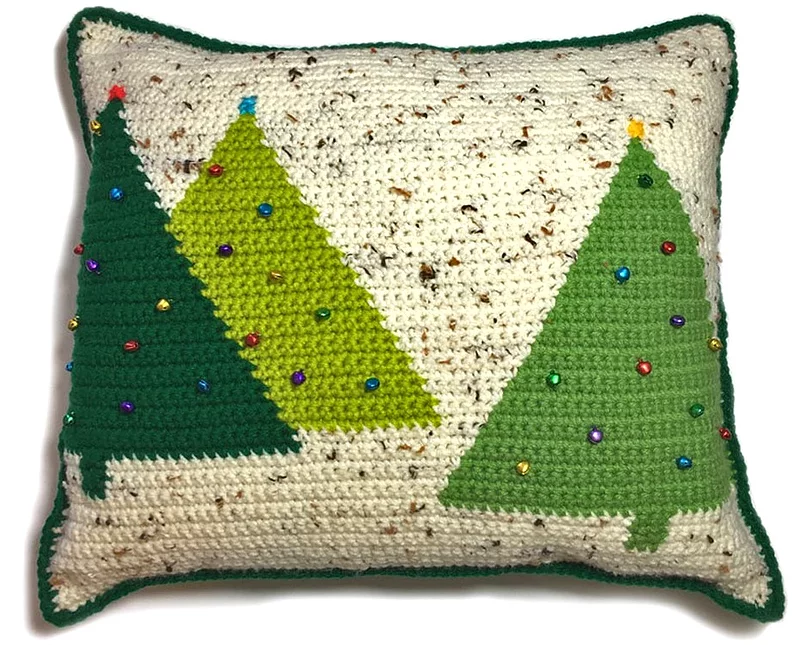 See Also:
➽ Pattern Amigurumi Snowman
➽ Crochet Easy Baby Sweater
➽ Diamond Charms Quilt
Holiday Trees Crochet Pillow
Pattern/Images/Tutorial: Anna Burton Designs
YARN:
You can use any yarn you'd like. Best is medium weight (4) yarn. I like to use Red Heart Saver Solids, Red Heart Love, Lion Brand Vanna's Choice, Loops and Threads Impeccable Solids, Caron One Pound, Caron Soft, Paintbox, etc. Pretty much any medium weight yarn out there.
For this pillow, I used Loops & Threads Impeccable Aran Fleck. I thought the aran fleck gave it a very cool background for the trees. Red Heart also has their own Aran Fleck that will work as well. I used one skein to complete the background. You can also do any solid color like light blue or just plain white.
Pick 3 different shades of green for the trees. I picked Caron One Pound – Grass Green, Limeade and Kelly Green. Or you can use the same color for the trees.
And for the back fo the pillow, I like the reversible contrast look for my crochet pillows. The cool thing for this pillow is that any of the 3 greens will work. For this pillow, I chose the darkest green, Kelly Green.
CROCHET HOOK: I/9 – 5.50mm​
OTHER MATERIALS:
darning needle (to weave ends)
scissors
18″ x 18″ pillow insert
small jingle beads (optional)
[activecampaign]
MEASUREMENT:
15″ x 18″ – the reason why I suggested a 18″ x 18″ pillow insert so that the pillow will be nice, soft and chubby.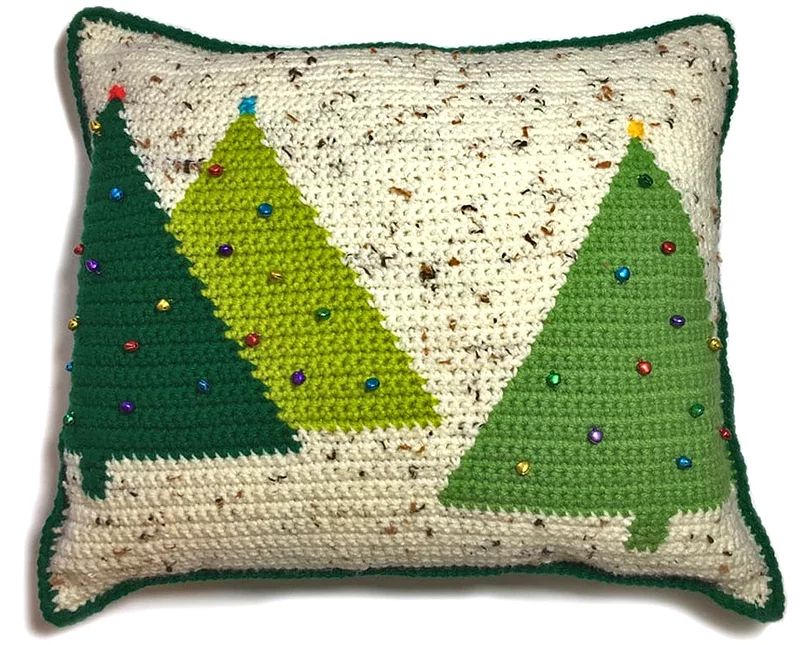 Our Team's Opinion About This Pattern
Holiday Trees Crochet Pillow, a beautiful pillow with a perfect touch that I'm sure you and your guests will love. This piece has beautiful charming details that will make your home ready for this long-awaited date. This is a piece that is always needed, that's why it is so famous and required. This piece will surely make your customers want one like it, which will help you in sales!!
Want to craft this amazing Holiday Trees Crochet Pillow? Then set aside all your material and tools before starting your piece so that you already have everything close at hand, this way it'll be easy to carry out this project, follow the tutorial carefully, make your piece while following the tutorial and I' m sure that you will be able to make this amazing work easily.