Ashanti Coverup – Free Crochet Pattern
Hey loves! It's been a few days since our last shared pattern and we already miss you. How were those days out there, were you able to practice and keep the craft up to date? We hope to find you all well and looking forward to new patterns. We found an incredible one that we couldn't not share and bring all of this to you. Ashanti Coverup is a beautiful piece that will make all the difference in your look.
It's an outfit made of crochet, this versatile technique that already has our heart. If you still don't know the technique, which we think is almost impossible, stay here with us and learn. This piece is made to complement your look. It's like a cover, but it doesn't cover all the pieces and it's not suitable for colder days. The ashanti coverup is made with wide open crochet stitches and looks amazing.
You can choose different colors to make this pattern. If you already have a little more practice and want to make the piece in color, go ahead, it will look beautiful too. Some people like more discreet pieces, with more common colors like white, black, gray. The piece becomes more classic and the combinations with your look can be easier to make. Vibrant colors draw all the attention of the look and are also amazing.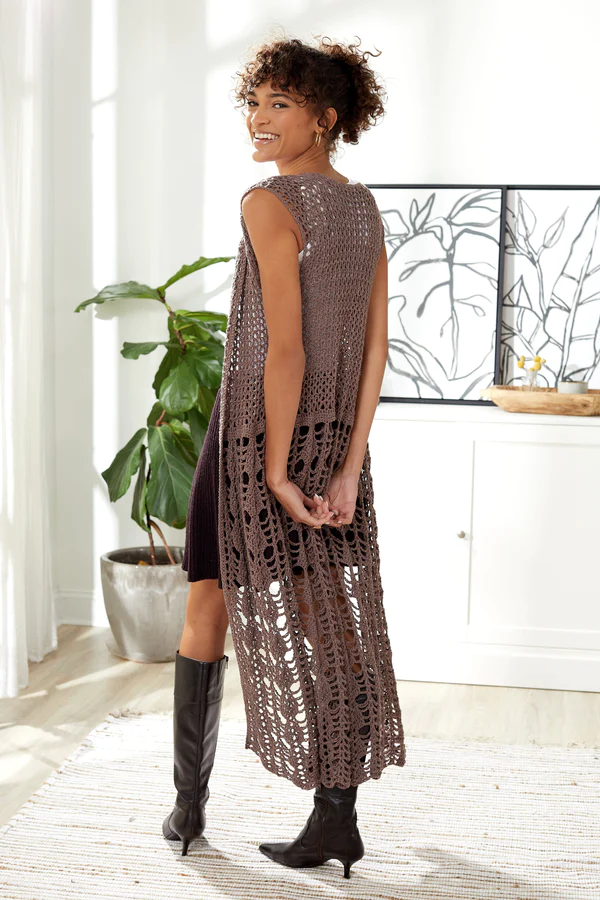 Image / Pattern / Tutorial: Premier
 Ever thought of a red ashanti coverup? It's going to be a hit. As for sizes, in the pattern you will find some different measurements. If the piece is for you, measure and see what looks best. You may prefer a tighter or looser coverup. As for the yarns, the pattern has the suggestion used by the designer. The complete ashanti coverup pattern is available in Premier.
All the tips, step by step, materials and measurements are there. We know you're already looking forward to crocheting, but before you start, read the entire pattern a first time. If you still have doubts, read it again. Only then start crocheting, you will see how it gets easier once you understand what needs to be done. Don't forget to tell us what you think. We are very happy with your feedback and suggestions. Separate materials, crochet hook in hands, let's crochet!