My Blue Jeans Shawl Pattern
Good afternoon loves, what a pleasure to meet you here. We are always looking for new patterns to share with you and knowing that you come here to learn makes us even happier. How about closing the month with a crochet pattern? That's our proposal today, My Blue Jeans Shawl.
The crochet shawl is an accessory that has a huge diversity of colors, formats and styles. This allows you to make a combination of different stitches and threads. Models of crochet shawls with fringes or without fringes, trapeze, triangular, round. Crochet shawls can be made from wool or thread. In any season he is welcome and makes all the difference in the look.
The crochet shawl makes you feel more comfortable. It's a great option in all styles and, if made with tighter yarns and stitches, it keeps you warm. The crochet shawl is an item that brings with it the idea of embrace, of warmth. It can also bring affective characteristics. I remember my grandmothers who used to have a shawl always close by.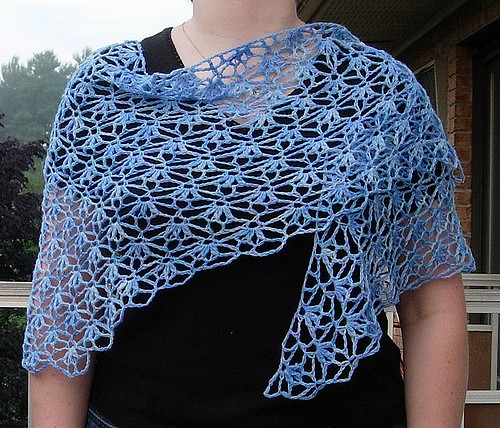 Image / Pattern / Tutorial: Ravelry
My blue jeans shawl, with a triangular shape, allows you to create different compositions with the same accessory. Changing only the folds and positions. You can use and abuse your creativity to create different looks. A third piece that works for both casual productions and more formal events.
The choice of yarn makes all the difference in this piece. If you want a shawl for a more formal event, finer yarns are more elegant. There are models with glitter that are very incredible for evening looks. I'm sure you won't run out of ideas. Tell me, is this a piece you usually wear? I must tell you that I didn't think I was going to wear a shawl until I had one in my wardrobe. Give my blue jeans shawl a try.