Pyramid Afghan Crochet – Free Pattern
Hi my dears! Ready to learn one more pattern of success? Today is Pyramid Afghan Crochet. This model is wonderful, it gives a 3D effect impression throughout the piece. I know that models like this seem very difficult to make and we are insecure when we see them, I also thought it would be like this.
But it's not, as soon as you start making it, you'll see that the rounds fit together, forming the design of the piece. For that, you will only need to follow and available pattern. Once you understand and learn the stitches, it will be simple to go on and complete the pattern. The colors are very much your choice.
I know that in these types of pieces we want the effect to be repeated and we are often afraid to choose combinations that do not have the same 3D effect. Therefore, in the pattern you will find the suggestions used and the tones. We try to bring photos of different colors to help you get inspired and unleash your creativity.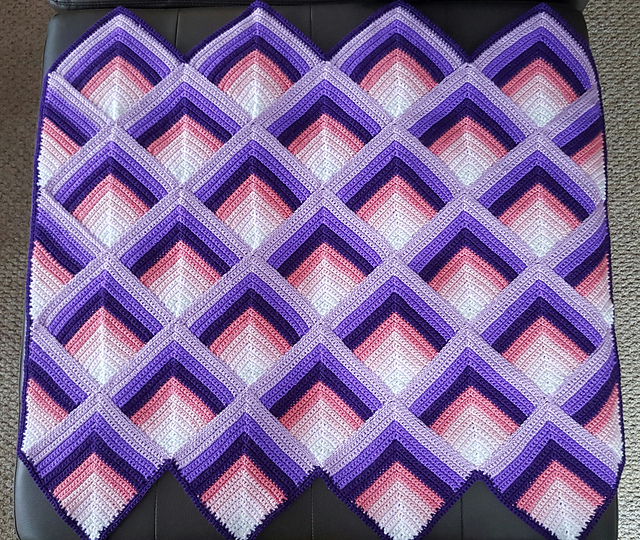 Image / Pattern / Tutorial: Antique Crochet Pattern
The more we create and risk combinations, the more creative we become. When choosing the type of yarn, think about whether you want an afghan crochet for colder or milder days. Wool is highly recommended for heavier blankets, they are warmer. Thinner Yarns make for lighter blankets, perfect for snuggling up at the end of the day during a movie.
The complete pyramid Afghan Crochet pattern is available at Antique Crochet Patterns. You will learn how to make the whole piece, have access to the list of materials and suggestions that were used. We recommend that you read the entire pattern before you start, so you already clarify any doubts that may arise.
That way, you won't have to stop mid-round. It's always a pleasure to see you here, wanting to learn beautiful techniques and crafts. If you want to leave suggestions, your opinion, how it was done, we will be very happy to read. We are here to support and inspire each other!