Bavarian Buster Blanket – Crochet Pattern
Today's pattern is a beautiful crochet blanket pattern, the Bavarian Buster Blanket. By the photos you can see that it is a very cheerful blanket, full of color. It is made in stages, squares that are finally sewn together to form this beautiful work. The good thing about this model is that as the pattern is complete through squares, it's an easy piece to adapt to different sizes.
If you want to make it for a double bed, just decrease the number of squares, the pattern remains the same. Blanket edge is optional. If you run out of main color wire, you can easily omit edge rounds. But if you want to give your piece a more characteristic touch, make the color that you think best matches the piece.
It is difficult to measure the amount of yarn needed to make this piece. As it is a handmade piece, the stitch varies from person to person. If your stitch is tighter, the garment tends to get smaller and use the same amount of yarn as a looser stitch, creating a larger garment. But that only practice will help you.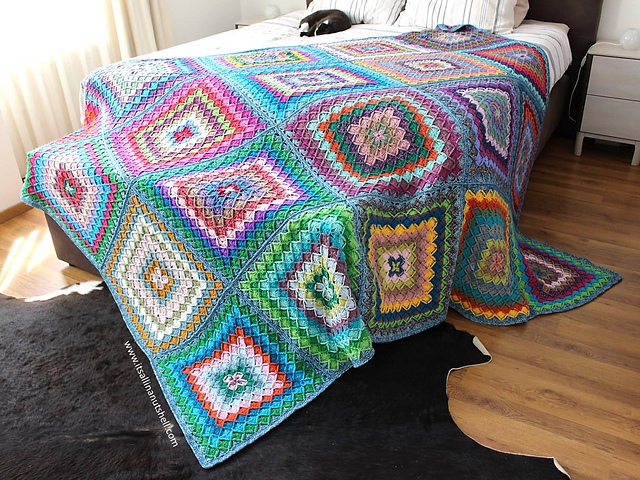 As much as it is a hobby for many people, crocheting is an art that deserves dedication. If you are interested in making more pieces, selling, daily practice is very important. Make a square a day to start, know the yarn and the stitch you are going to make. You will see that with time, everything will get easier.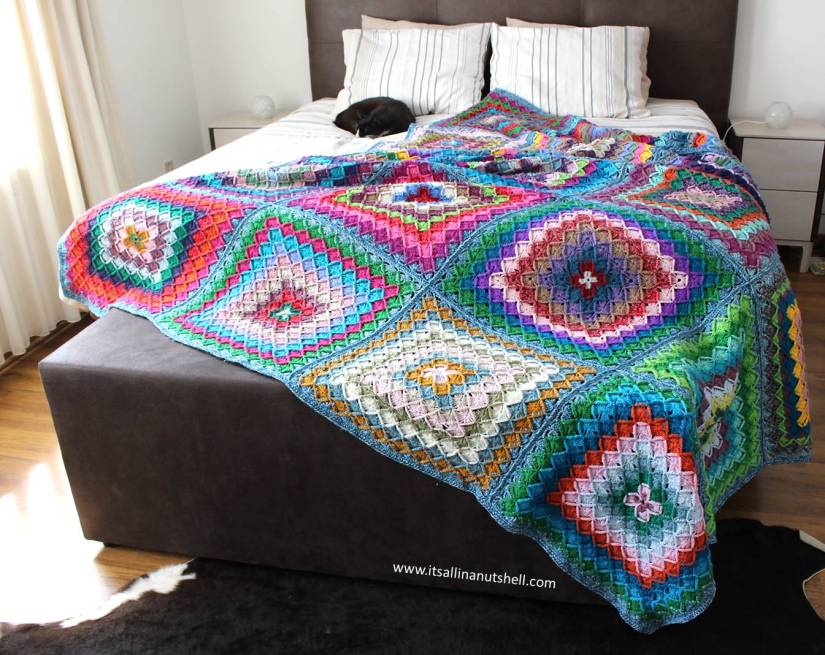 Bavarian Buster Blanket Pattern
Nothing better than learn the abbreviations to comprehend better the pattern. Check the ones that are used.
ch = chain
ch-sp = chain space
bptr4tog = four back post trebles worked together
bptr8tog = eight back post trebles worked together
hdc = half double crochet
sc = single crochet
ss = slip stitch
tr = treble crochet
tr4tog = four trebles worked together
st(s) = stitch(es)
You will need to make 20 squares measuring 50x50cm each. That will be enough to have, in the end, a wonderful blanket size 200x250cm. At Its all in a nutshell Crochet you can find all the pattern available for FREE. You will see that they provide the video tutorial to help you step by step. Hope you love it like we did!