Chevron Crochet Blanket Pattern
The blanket pattern that we brought you today is totally passionate, the Chevron Crochet Blanket. It's a crochet stitch that can be made with different colors. As you can see, the design of this blanket works like a zigzag line made up of peaks (dots) and valleys (depressions). If done in one color, mix the tones. Your piece will have a beautiful color gradient.
If you choose colored, it will remind you of a beautiful rainbow. In the photo below, you can see a blanket made with lines in earthy tones. I personally thought it was very elegant. It is a piece that will match various environments. It is a piece that leaves the environment very cozy. This pattern is perfect to keep for yourself or to make as a gift. This classic yet fun pattern is easy to love.
This crochet chevron pattern has a 70s style, is a unique stitch and very easy to learn. If you are a beginner in this art, do not despair. The chevron pattern is easy and great for anyone new to crochet. If you already have more experience and want to try something a little different, there's nothing stopping you from doing that too.
Chevron Crochet Pattern
We recommend counting, then recounting your stitches for each row. It is easy to skip or add a stitch with a chevron pattern design.
Materials Needed:
Yarn: the amount of yarn needed will vary with theweight used, size of the blanket, etc.
Crochet hook: Choose whatever size the yarn recommends on the yarn label.
Yarn needle: This will be used to weave in ends at the end of your project.
Scissors.
Crochet Stitch Abbreviations
ch(s) = chain(s);
st(s) = stitch(es)
sc(s) = single crochet (s);
sk = skip;
sc2tog = single crochet two together.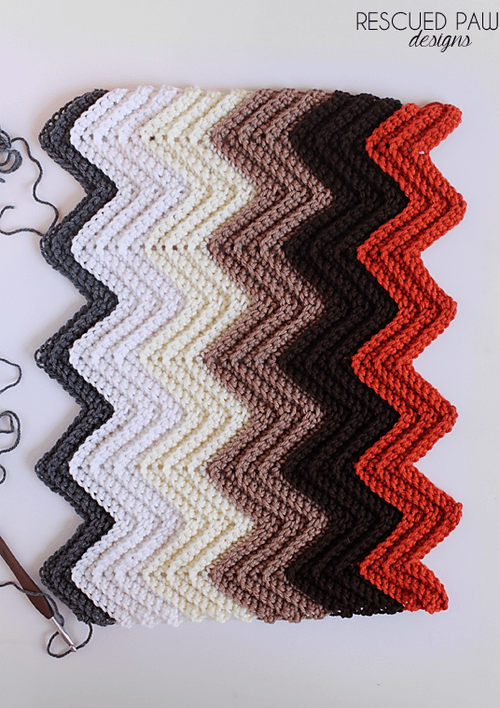 To start the pattern, you'll make a starting Chain: Ch a multiple of 17, then ch an additional 15 chs to that multiple. The entire pattern is available at Easy Crochet. You can also see the video tutorial, if you prefer.