Cubine Blanket – Crochet Pattern
Hello my loves! It's always a great pleasure to see you here, to learn new patterns for you to use on a daily basis, increase your product portfolio or make that personalized gift for someone very dear. Today we will continue with crochet, an old technique that is increasingly present in our daily lives.
It's a super versatile technique that you can use to make rugs, amigurumis, dresses, coats, baby shoes and blankets. The Cubine Blanket is a very special, beautiful pattern that has an illusion effect of great in the same piece. It may seem difficult, but I'm sure you'll be able to do it with ease. Just like anything else, we need to practice daily to evolve and improve our technique.
This pattern is made in blocks that, in the end, come together to form the blanket. So, you can make the blocks as you have time, make one every day. The final blanket utilizes 36 blocks, in a 6×6 arrangement. This blanket comprises 36 mitred squares. The squares all use the same pattern, and differ only in color placement.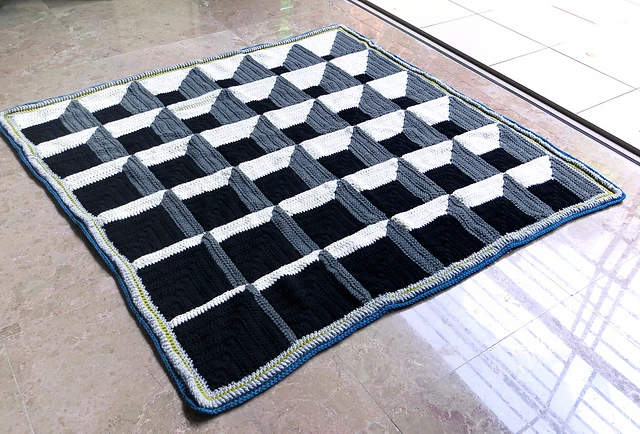 Image / Pattern / Tutorial: Ravelry
In this blocking pattern is not essential because any unevenness is smoothed out once the motifs are joined. However, you can block the squares before joining them if you wish. Take a chance on colors and combinations. We brought several photos with different colors of the same pattern. Use this as inspiration to make your own color combination that will stand out in the room you want to use it in.
The complete pattern is available on Ravelry. You can download the pdf in two terminologies, UK and US. In the pattern you will find all the step by step, necessary materials, measurements, stitch abbreviations, yarn suggestions. We hope you get inspired to create new beautiful pieces and let us know how it went. Don't forget to suggest what you want to see around here, so we can inspire each other. Now, let's crochet!