The Campfire Cardigan, perfect for many occasions when a special look is needed. It can be done in different ways and with different colors too, which can help you a lot because it provides a huge variety of possibilities. This crochet piece is very beautiful and can be made very easily and with little material, which is of great help. A perfect piece for many occasions and that will surprise you.
This is a very interesting piece, which can be combined with informal clothes, such as jeans, T-shirts, shorts and more, which is very good. With an infinite possibility of looks, which can help you even more. The color is also up to me, choose the ones that best match your wardrobe.
Joker piece among the models, it can be used in the days of less intense cold and it is a simpler option and that can be used in many different occasions. This type of Cardigan is the most used in the days of less intense cold and can help you a lot to stay warm.
[activecampaign]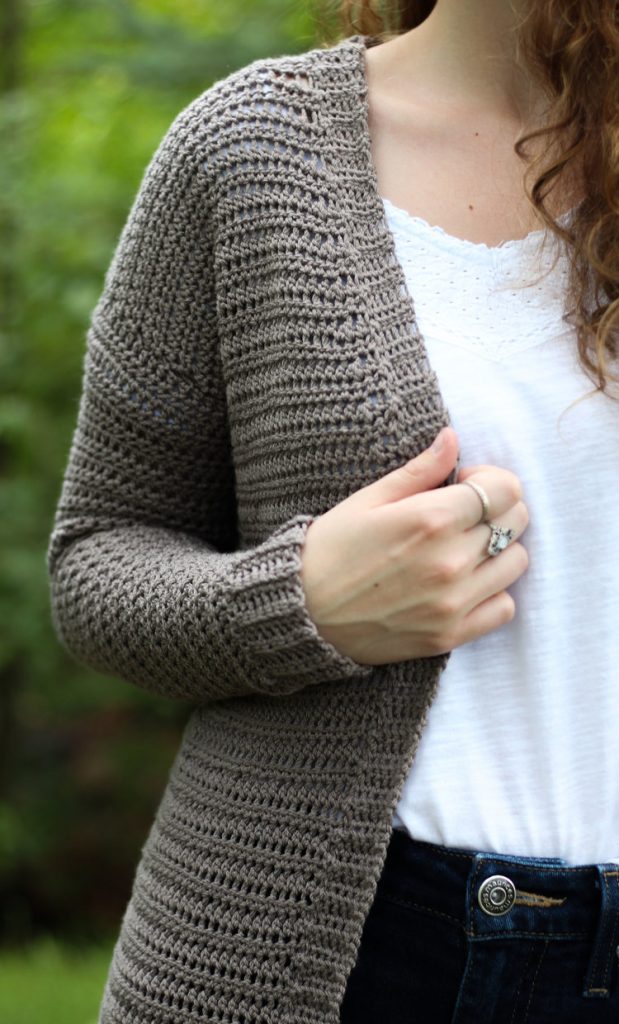 See Also:
➽ Flowers Crochet Pattern
➽ Crochet Entrelac Stitch
➽ Gorgeous Poncho In Crochet
The Campfire Cardigan
Tutorial/Image/Pattern: Hooked In Tilly
Sizing:
Choose your exact bust measurement. This cardigan is designed with 5" of positive ease.
X-Small – 28–30"
Small – 32–34"
Medium – 36–38"
Large – 40–42"
X-Large – 44–46"
2X-Large – 48–50"
3X-Large – 52–54"
Abbreviations:
Ch – Chain
SC – Single Crochet
SC BLO – Single Crochet in the Back Loop Only
HDC – Half Double Crochet
Sts – Stitches
Notes:
Size adjustments are listed as such (X-Small, Small, Medium, Large, X-Large, 2X-Large, 3X-Large)
I strongly recommend highlighting the row and stitch count for your size before starting the project.
Construction is done using 5 separate panels that will be sewn together at the end. The front ribbing is done last.
Materials:
– 5.50mm Crochet Hook
– 5-8.5 balls Lion Brand ZZ Twist yarn in the color Taupe (OR approximately X-Small – 1,240 yards Small – 1,400 yards Medium – 1,700 yards Large – 1,800 yards X-Large – 2,000 yards 2X-Large – 2,200 yards, 3X-Large – 2,400 yards Medium 4 weight yarn)
– Measuring Tape
– Scissors
– Yarn Needle
Gauge:
In Half Double Crochet using 5.50mm Crochet Hook
14 Sts = 4"
11 Rows = 4"
What Our Crew Thinks About The Campfire Cardigan
An exceptional Cardigan that will amaze you, the incredible look of this wonderful cardigan will make you realize how we can create amazing pieces using our hands, and of course, crochet, which is what encourages us and helps us to create these beautiful pieces that enchant everyone for their beauty and charm.
Want to learn how to make The Campfire Cardigan? Then follow the tutorial available here, I'm sure you will love the result of this beautiful cardigan and the looks it will provide you, as they are incredibly charming. By following the tutorial carefully you can learn how to make this beautiful stitch simply, quickly and easily.