Shamrock Table Runner, very popular in decor for table setting, because it gives a very nice touch. It is also known as a table rail, it is a practical and very charming option to perfect your combination and leave your guests surprised with the creativity and beauty of this piece. It is no longer just the decoration of the empty table and in everyday life to be used as another highlight for your party table.
Very versatile, the table path can be used both in smaller spaces and for a wider composition, such as wedding party tables, for example, which makes it an incredibly useful piece. Thus, the quilt once again surprises for the beautiful pieces made by hand. It's worth investing in this piece and composing it in the most varied tones and colors, giving it a personal touch.
Making pieces with this kind of delicate and simple finish fills us with joy and allows us to invest in our creativity making wonderful and charming works that delight everyone. Take advantage of the application basket to create new beautiful pieces like the one shared here.
[activecampaign]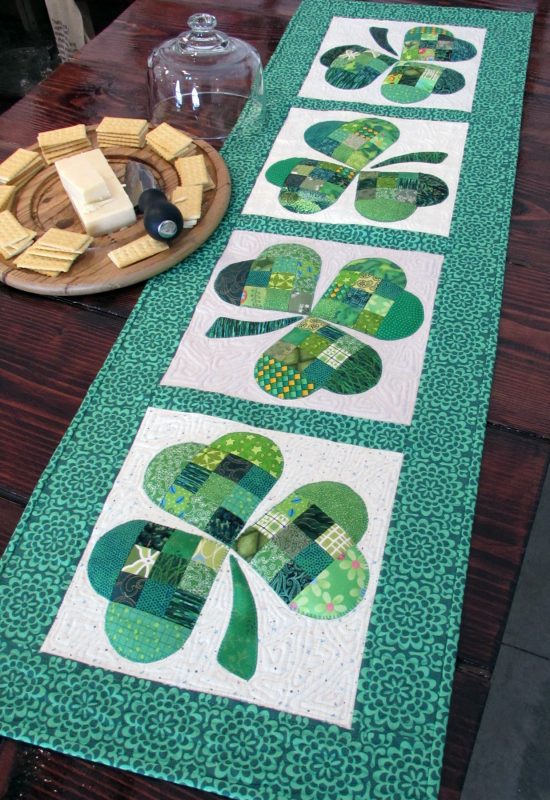 See Also:
➽ HeartStrings Quilt
➽ Scrappy Hunter's Star Quilt
➽ Pinwheel Variation Quilt Block
Shamrock Table Runner
Images/Tutorial/Pattern: We All Sew
Scrap Fabrics
108 – 1½″ green print squares:
12 – 2″ x 3½″ green print strips
16 – 2″ x 5″ green print strips
4 – 10½″ low volume/white print squares for the block backgrounds (I cut a square from four different white-on-white print fat quarters)
Yardage
1 5/8 yards Kelly green print for the sash, borders, binding, and backing (I used True Colors, Wallflowers in Green by Amy Butler for Free Spirit Fabrics
18″ x 52″ batting (If I have some wool batting left over from another project, that's my preference. I used Hobbs Heirloom Premium Wool for my runner.
Other Materials
1 yard, 12″-wide paper-backed fusible web
Heart-shaped leaf and stem template
Thread, 50 wt cotton—light gray or green for piecing; Kelly green for appliqué stitching and quilting; cream for quilting.
Needle and thread to secure the binding by hand.
Sewing Machine, I sew on a BERNINA 750 QE
BERNINA Patchwork foot #37
BERNINA Walking foot #50 with Seam Guide
BERNINA Stitch Regulator (BSR)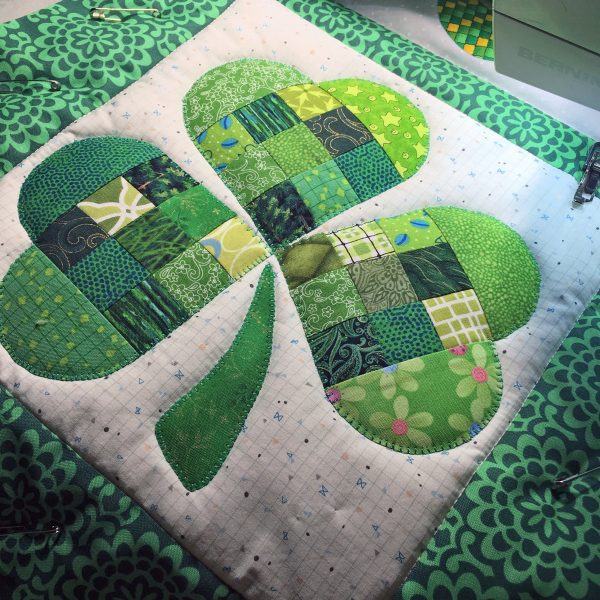 Our Team's Opinion About This Pattern
Shamrock Table Runner, a very well designed quit!! If you're looking for a new piece to change the decor of your kitchen, this piece can be what you're looking for, come with us and let's do it. This amazing piece will help you give your house a look that you'll love, you'll truly be amazed. This will surely make your customers want one like it, which will help you in sales!!
Want to make this amazing Shamrock Table Runner? Then set aside all your material and tools before starting your piece so that you already have everything close at hand, this way it'll be easy to carry out this project, follow the tutorial carefully, make your piece while following the tutorial and I' m sure that you will be able to make this amazing work easily.