Jellied Lone Star – Quilt Pattern
This is Jellied Lone Star, a wonderful quilt pattern, which is available for free and we made a point of bringing it here for you. Stars are classic models among quilts. Whether big or small, they make all the difference in your piece. In this quilt, the star is made by joining several prints of different colors, which together make a beautiful combination.
The light background makes even more difference, leaving all the highlight of the piece to the star. To make the star, the design choose 25 jelly roll strips: 5 red, 5 dark blue, 5 light blue, 4 black, 3 white and 3 red and white. You can find these strips ready-made at craft stores. You can also buy the fabric and make the cuts, it will take a little more work at first, but the result will be the same.
In addition to these fabrics, you will need fabric for the background, binding and backing. The 45 degree ruler helps a lot when making the markings for the cuts, but if you don't have this ruler around, you can make the piece the same way. Quilts are widely used in home decorations, whether in the living room, on the sofa, in the armchair, or in the bedrooms.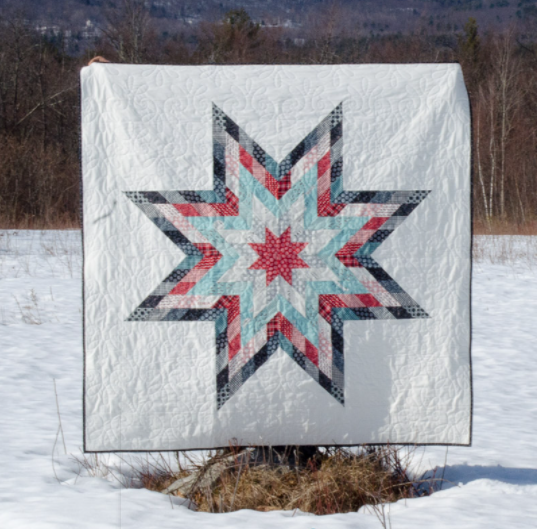 Image / Pattern / Tutorial: Moda Fabrics
But not only in the decoration of the environments, it's great to come home and be able to snuggle up in these quilts on the mildest days. Depending on the material you are going to use as a backing, if it is more resistant, use the quilt on the floor as well. Whether as a mat for the kids to play on, or a picnic towel. This pattern never goes out of style, it will be a hit in every season and occasion you decide to take it with you.
Have you ever thought about gifting your loved ones with crafts you made yourself? In addition to being beautiful, you can show all your affection for these people. Guaranteed success. The full jellied lone star quilt pattern is available from Moda Fabrics.
The entire combination of colors and prints is available for you to do the same or have as a suggestion to assemble the star with the colors you like. We really enjoyed having you here and we are very happy to be able to bring new standards. Enjoy your weekend to quilt a lot!