Anna's Tales Pattern – Baby Blanket
The pattern we've brought you today is Anna's Tales, and it's passionate. This model has a lot of textures and different points, which adds a lot of value to the piece. At first glance it might seem very difficult to do. I must admit I shouldn't be the first choice if this is going to be your first piece. But advanced beginners, with the help of the pattern, can join and apply the techniques to this beautiful work.
The Anna's Tales pattern can be used in creating pieces that have a variety of uses. It can be a beautiful baby blanket made with pastel shades, which are in high demand, as in the photos below. If the colors of the baby's trousseau are more vibrant, nothing prevents you from taking risks in other shades, we are sure that the work will continue to be beautiful.
The main focus of the work is the dots, which will continue to be enchanting. It can be a blanket for the bigger ones too, for the sofa or an armchair in the corner of the room. It will bring a touch of sophistication to the environment. As the points are more worked and require more time, do not stress about the deadline. Crochet time should be fun and relaxing, this reflects on your work as well. If you take longer to complete a step, it's still okay! This is not a race. It's a journey to create something unique and beautiful with creativity.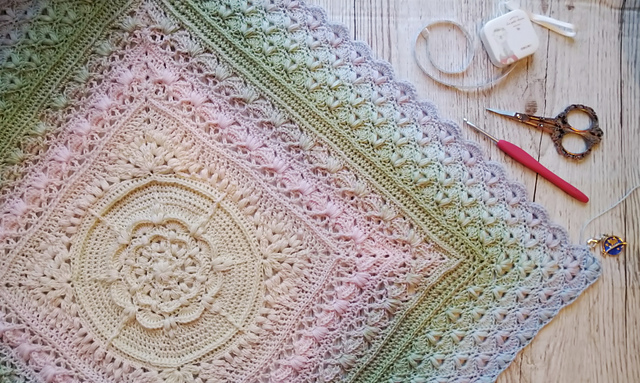 Materials Needed for the Anna's Tales
The materials needed to do this wonderful piece are simple and basic:
Crochet hook;
Yarn of your choice;
Yarn needle for weaving in ends;
Scissors;
Stitch marker (optional).
The finished size is 87.5cm x 87.5 cm / 34.5″ x 34.5″. If you use a different yarn weight from the used in the pattern, the finished size will be bigger. You can find the pattern available in Ravelry and in K.A.M.E Crochet. Go ahead, do the most wonderful blankets and have fun!