Jelly Roll Posies – Quilt Pattern
Jelly Roll Posies is a quilt pattern design by Cindy Carter. It is a beautiful and very colorful piece. Bring joy to any environment. At first it was made for babies, but it can be used for other occasions. This quilt can also be used as a lap quilt. It looks beautiful in bed too, whether single or double. Just adapt the pattern to make the size you need.
One way to make quilts and not go crazy is to do one block at a time if you don't have a lot of time to dedicate. You can separate all the fabrics and cut everything at once and only then start joining. If you already make patchwork quilts, this quilt is a good opportunity to get rid of the scraps we all have in store. The pattern does not use a lot of the same fabric. With few fabrics and with varieties everything works out.
Matching fabric is not always easy, even more daring with slightly more vibrant colors. And matching colors requires common sense. Do you know the color wheel? It is a very good tool when it comes to combining the fabrics of your quilt. It is easy to identify harmonic combinations that we can make.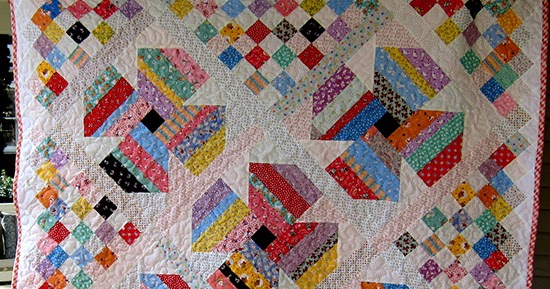 Baby quilts are really fun to make and don't take as much time as an adult quilt, which is huge. Bedspreads for babies have to be for cradling, cuddling, and snuggling. With this pattern, we are sure that the quilt will be for babies and children even after they grow up.
To make a baby quilt we have to be careful. Do not use spray glue to avoid causing allergies, do not quilt too much to ensure the piece is soft. In the pattern you will find all the measurements, diagrams and step by step of making the quilt. Check the pattern available at Carter Quilter. It is time for quilting!