Big Beach Blanket – Free Pattern
You must have noticed by now how much we love crafts and sharing new patterns with you makes it even cooler. Whether crocheting or sewing, this time you take to relax should be put to good use. Thinking of encouraging you a little more, let's learn how to make the Big Beach Blanket. The blankets are very beautiful, and this model is perfect to take on fun days.
Whether it's for a day at the beach, park or picnic, it's easy to fold and carry wherever you need it. Here the colors can be very vibrant and cheerful to be easier to locate in the middle of several people. You can play with the combination of prints and colors, leaving everything well decorated and personalized. If you've already made a quilt or blanket and there's fabric left lying around, how about using that blanket?
If the patch measures one of the squares of the blanket, it's a great opportunity to use it. This blanket is perfect for anyone starting to sew. The cuts and stitching follow a pattern throughout the blanket. Also, the cutouts are large, needing less sewing to make the entire blanket. We always recommend washing the fabrics before starting with the cutouts.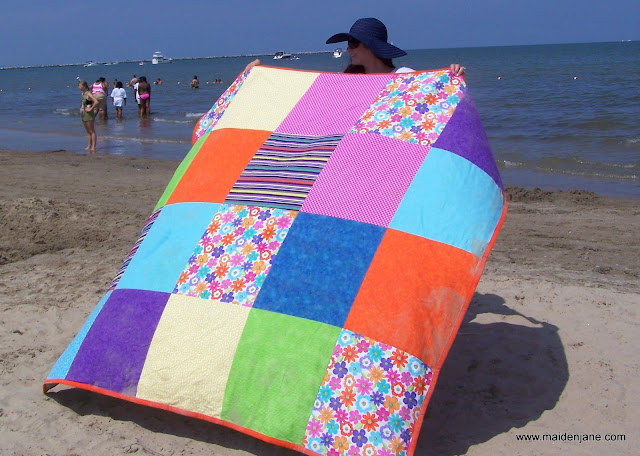 Image / Pattern / Tutorial: Maiden Jane
Fabrics can shed excess ink or shrink. If this happens before sewing the blanket, it will not change the final design. These are tips that, with time and practice, you will become a pro and will do it automatically. The pattern is available from Maiden Jane. If you want to make a larger blanket, simply increase the size of the squares or increase the number of rows.
To decrease is the same reasoning, decrease the size or the number of squares. We're sure you won't have any difficulties and if you need anything, talk to us here in the comments. We are very happy to be able to share all this and see you here with us. Let's make this week amazing? We will be here separating more beautiful things to learn together. Separate fabrics, let's sew!