Crochet Baby Converse – Free Pattern
Hi my loves! Finally Friday arrived, but with so many beautiful crafts that we learned and shared here, we didn't even see the time pass. If you are looking for a different model of shoes for your baby, you have come to the right place. Let's learn Crochet Baby Converse. This shoe is very cute, full of charms and details that only make everything more charming.
Crochet shoes are the favorite of many moms. In addition to being beautiful and easy to make, they are extremely comfortable for our little ones. Unlike tennis shoes and conventional shoes, crochet is very soft and malleable. It doesn't restrict their movement, doesn't pinch their little feet and is much easier to put on. You can make this pattern in different colors, as you can see in the photos.
It is a model that can be used by all babies. They are small pieces, in a matter of hours you will have pairs ready. And babies never have too many shoes. Take the opportunity to gift a friend who has a baby. Baby pieces enchants everyone and can be a great option for those who sell these handmade items. Take advantage of the moments you have this weekend to practice some of this craft that has become so popular in recent years.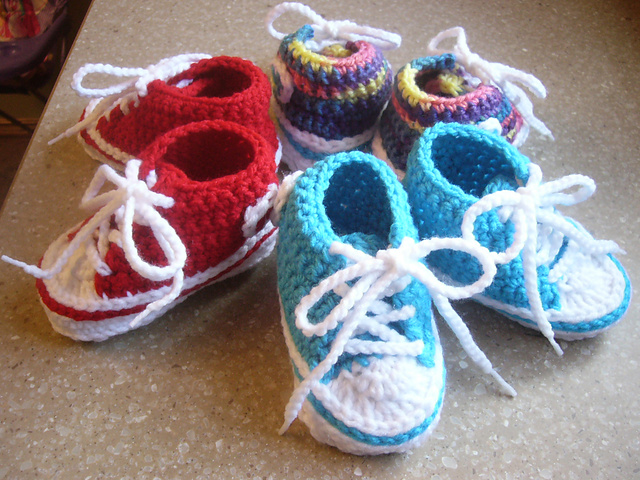 Image / Pattern / Tutorial: Ravelry
With the problems we have faced in recent years, crafts have helped many people to get distracted. Whether it's a hobby, extra income at the end of the month or a profession, the important thing is not to stop practicing. To learn crochet baby converse, you can download the pattern from Ravelry.
Leave the pattern saved, so you always have access when you need it. We hope you like and enjoy this pattern. For us, it is very important to have your feedback, tell us here in the comments if you liked it. Shall we crochet this weekend? Grab your crochet hook, yarn and let's get started!