Midsummer Night Tunic – Crochet Dress
See what a wonderful pattern we brought you to make, the Midsummer Night Tunic. This beautiful crochet dress has a pattern assembled from matching squares. Crochet dresses are always on the rise. In more different molds, colors and following the trends, this is a piece that you can produce for yourself or even sell that there will always be someone interested.
The possibilities with crochet dresses are many, they can be used both for a night out at a sophisticated event, and as clothes to enjoy a well-dressed beach. Dresses can be made for all seasons, but the most common is to use in summer and as a beach outing. To keep the look fresher, choose more fluid fabrics to use as a venue.
For this type of work, fine cotton threads are the most suitable for being light, washable and there are still many color options. This dress is very charming and elegant, I'm sure you'll want one in every color. The good thing about handmade pieces is exactly that, being able to do with the colors you want. Colored or not, shorter or longer.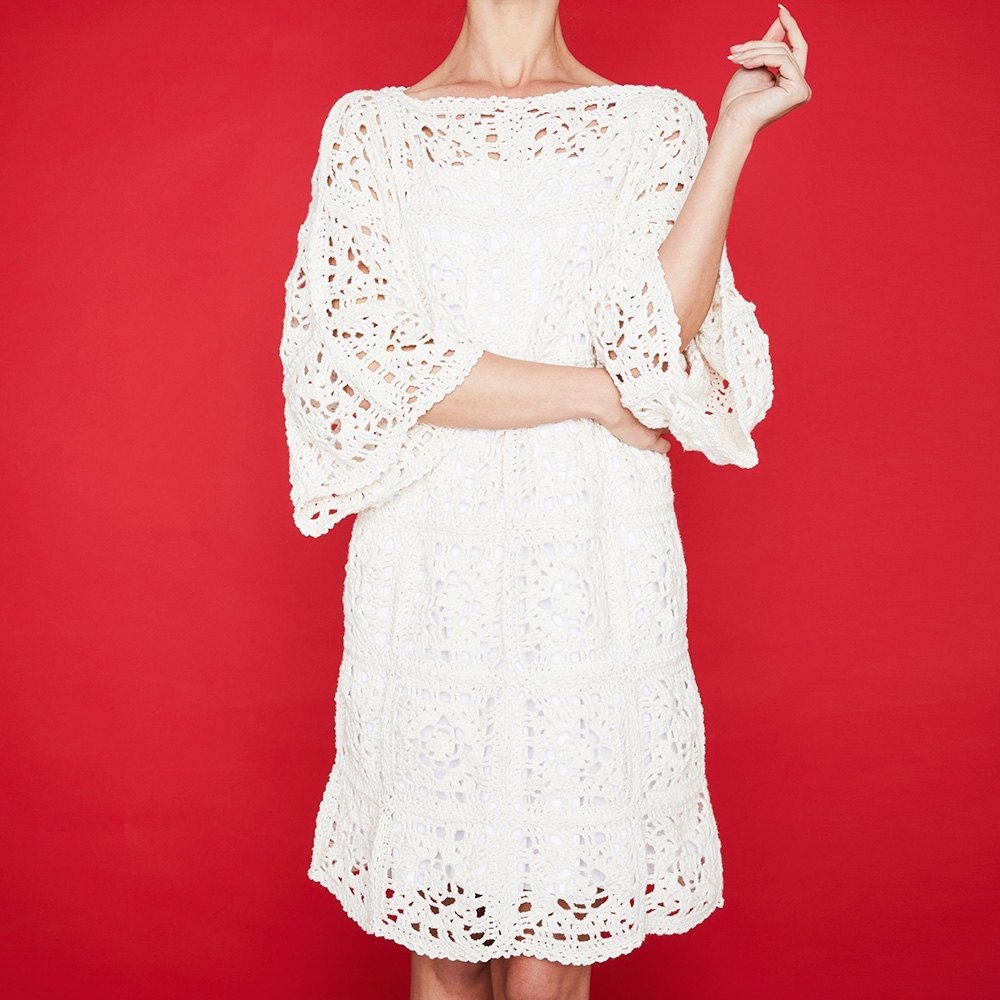 Midsummer Night Pattern
If you want to do the dress, you need to know the materials needed, right? Let's talk about it:
One Colour Tunic:
50g balls of Paintbox Yarns Cotton DK (As seen on cover);
14 22 × A – Champagne White.
Two Colour Tunic:
50g balls of Paintbox Yarns Cotton DK;
12 18 × A – Midnight Blue;
4 6 × B – Bright Peach;
All Tunics:
3½mm (UK 9 – US E4) crochet hook.

TENSION (GAUGE): Basic motif measures 14 cm, 5½ in, square using a 3½mm. (UK 9 – US E4) crochet hook, or size required to give correct
tension (gauge).
The materials listed are for making the dress as per the colors in the photos. But colors are completely optional. If you already have a look in mind for an event, make it the color you prefer. It will look great either way! You can check the pattern available at Love Crafts. We were totally in love with this dress. Let's crochet?!