Festive Christmas Throw Pillows Crochet
Festive Christmas Throw Pillows Crochet, the touch you need in your decor. Perfect to decorate your home for this Christmas, you will love the result. A perfect pillow for Christmas decorations with a look you're sure to love. One of the works necessary to leave our house well decorated in that Christmas atmosphere and in a very charming way. Christmas is a special event where the whole family will get together to celebrate the holidays with the family, even for the ones we hope for at the end of the year, which are the Christmas festivities.
Time to be among the people you love, to celebrate life and love. At this time of year the decoration is one of the most important points to receive the people we love with a lot of style and charm, you will love it. Festive Christmas Throw Pillows Crochet, for those who are already preparing for the year-end parties that are so awaited by everyone, this beautiful piece can be an excellent choice in decoration.
Let's go make this amazing pillow that it is a piece that can be used together with the decoration, which makes it very versatile and useful. Using your creativity and skill, you can leave it well decorated and charming for this time of year. In a cheerful and simple way it is possible to make beautiful pillows.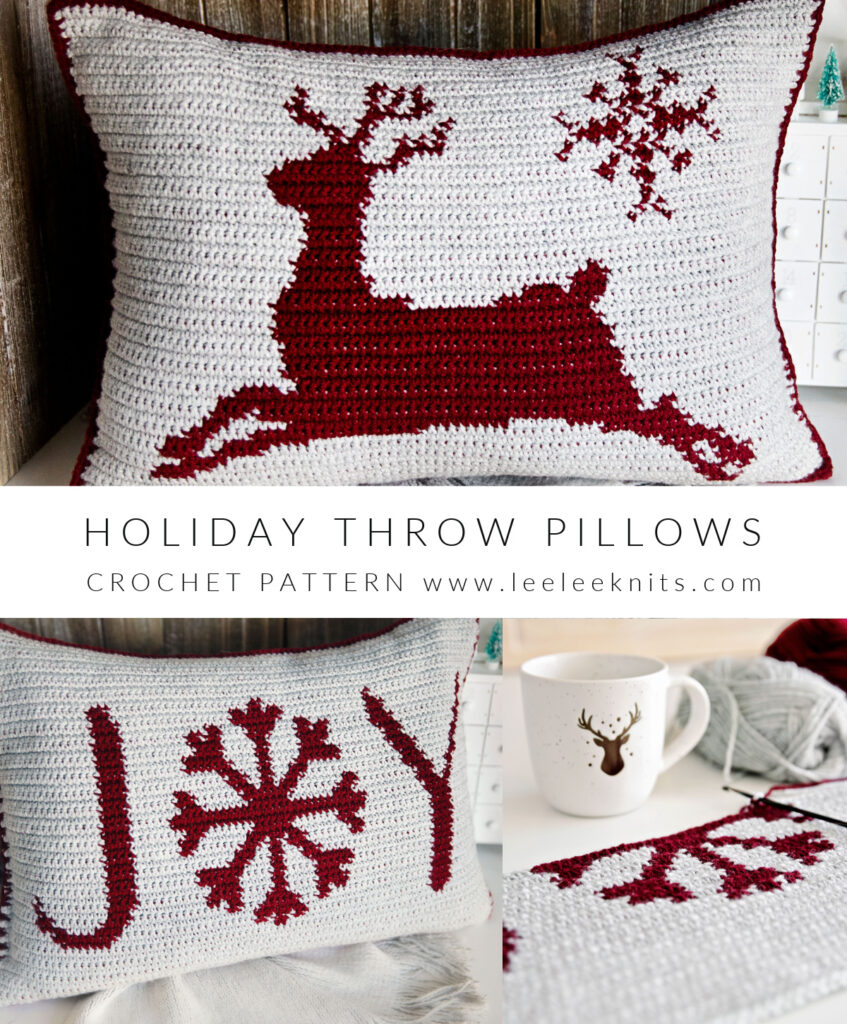 See Also:
➽ Pattern Amigurumi Snowman
➽ Crochet Easy Baby Sweater
➽ Diamond Charms Quilt
Festive Christmas Throw Pillows Crochet
Pattern/Images/Tutorial: LeeLee Knits
Every year around this time, I make a point of designing some festive crochet home decor. I didn't grow up celebrating Christmas, just to me its extra fun to decorate our home and get in the Christmas spirit. And of course, I love to share my designs with all of you! I know this year is especially tough for many people, and I'm hoping this pattern brings a little bit of joy to my crochet followers.
This easy pattern is fun to follow and includes a link to a video tutorial on tapestry crochet for those who are new to crocheting with two colours. Its super easy and you will enjoy seeing the design come to life as you complete each row of these pillow covers
Materials:
A size G-6 (4 mm) Crochet Hook
Knit Picks Brava Worsted Weight Yarn:
7 Dove Heather Skeins (Color A)
1 Skein Wine (Color B)
Scissors
Two 14″ X 20″ Pillow Forms
Tapestry/Yarn needle to weave in ends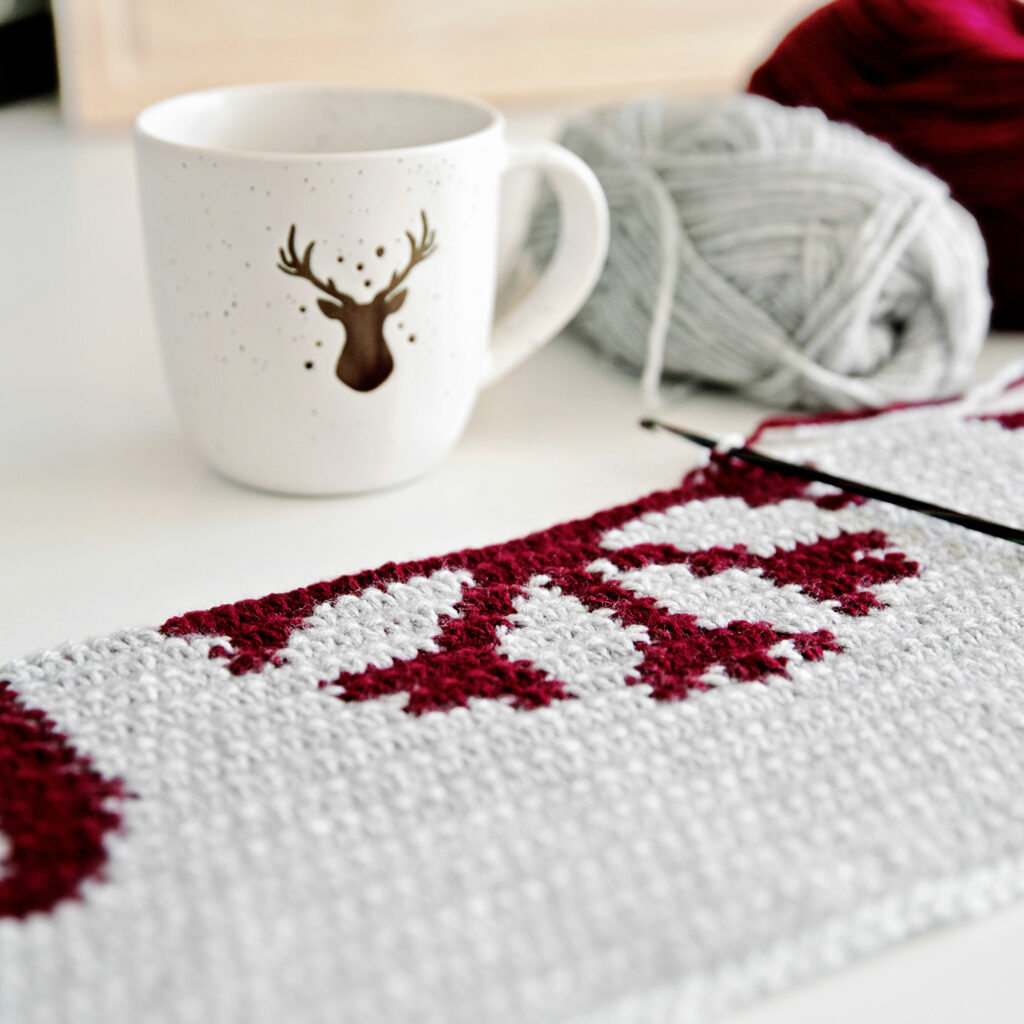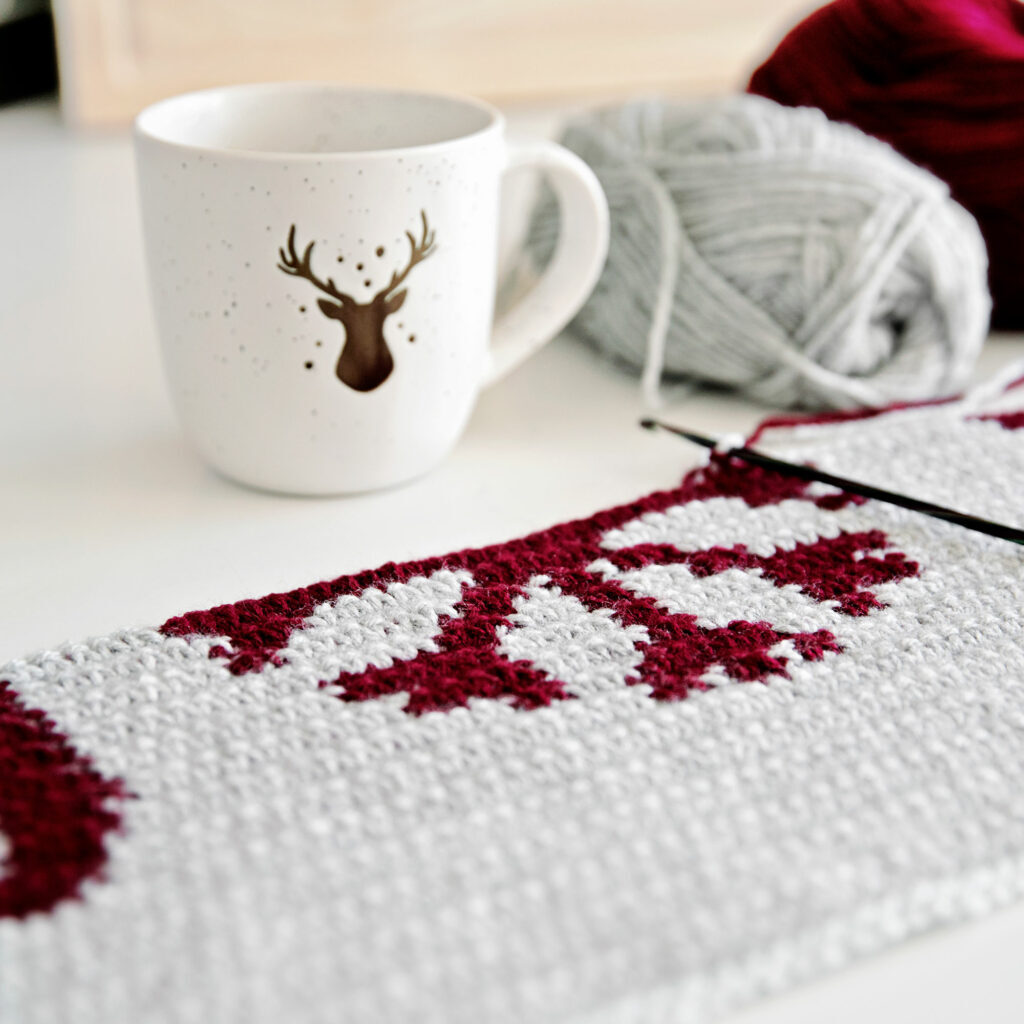 Our Team's Opinion About This Pattern
Festive Christmas Throw Pillows Crochet, a beautiful pillow with a perfect touch that I'm sure you and your guests will love. This piece has beautiful charming details that will make your home ready for this long-awaited date. This is a piece that is always needed, that's why it is so famous and required. This piece will surely make your customers want one like it, which will help you in sales!!
[activecampaign]
Want to craft this amazing Festive Christmas Throw Pillows Crochet? Then set aside all your material and tools before starting your piece so that you already have everything close at hand, this way it'll be easy to carry out this project, follow the tutorial carefully, make your piece while following the tutorial and I' m sure that you will be able to make this amazing work easily.