Crochet Chicken Potholder
Hello everyone, welcome! I am very grateful to have you here with me. Knowing that you remember All Day Crochet when it comes to crafts is very rewarding. It inspires us to continue and make our community even more incredible. I hope you can feel all our affection on the other side.
Let's talk about today's pattern? A well-decorated, set table brings more beauty and makes meal times even more special. With that in mind, we want to show you the Crochet Chicken Potholder. Yes, the potholders are also part of the table decoration and can match the rest of the utensils.
Far beyond its practical function, the potholder can be a wildcard in your table decoration. With personalized models that match the composition of the rest of your kitchen accessories, you can find the ideal one for your personality. What's more, it can be exchanged if you want to modify your decor.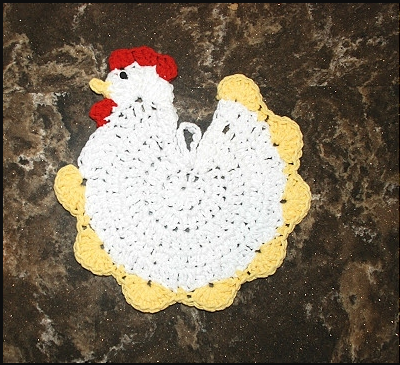 In the composition of a table, the potholder, in addition to protecting the surface of the furniture, avoiding contact with hot objects, its presence makes all the difference in the decoration of the room. After all, both traditional and stylized models convey style and personality, adding even more beauty and humor during everyday meals.
Crochet is a low-cost and versatile technique. The crochet potholder can be made in different shapes and colors. However, an important tip for those who want to create beautiful pieces with a perfect finish is to invest in needles with the correct dimensions and quality thread or wool.
We generally need more than one potholder on the table, which allows you to crochet chicken potholders in different colors or a set of each color. Anyway, there are many options that crochet allows us and I'm sure you'll have beautiful ideas.