Ruffle Shoulders Baby Dress – Free Pattern
Hello my darlings! We hope your week is being good, productive. We're here to share another amazing pattern that we've tested that might be very useful for you. the Ruffle Shoulders Baby Dress is very beautiful, full of details that make the piece even more charming. Crochet dresses enchant all moms and make our princesses very charming.
This pattern has a very incredible detail that makes the sleeve of the dress very different. It's a detail you can add to other pieces of clothing as well. See, in the photos, this jacket how beautiful it looks. You can make sets, coat and dress. We have some baby coat patterns here on the site, take a look and add those details.
Ruffle shoulders make all the difference, it looks like a different pattern. Crochet clothes are suitable for babies. They are malleable, soft and warm in the right measure. To have all these advantages, you need to choose good yarns. Yarns that do not irritate the skin, that are hypoallergenic. In order not to restrict babies' movement, make sure the size is adequate.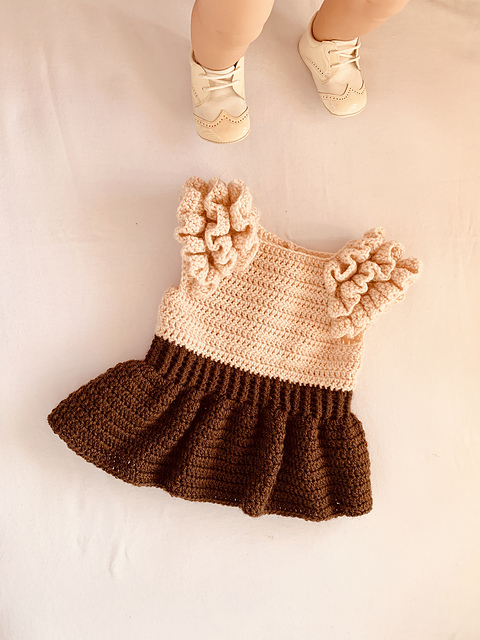 Image / Pattern / Tutorial: Ravelry
Choose the colors you like best. You can make the skirt part in one color and the top in another. The ruffle shoulders can be the same color, or a different shade. It's a beautiful option to gift a dear friend who is expecting a little princess or to take to a baby shower. It's always that outfit that will be special, show all your affection and dedicated time.
The ruffle shoulders baby dress pattern is available on Ravelry, with step by step, tips and sizes for you to learn and rock this piece. Did you like it? Let us know in the comments, we are always happy to hear your feedback. It's always a pleasure to see you here and share new patterns. We hope they make a difference for you too. Let's crochet?!