Folded Star Pot Holder – Free Pattern
Hello everybody! How are you? We hope to find you all well. Today we came to share a super useful accessory in our daily lives and in addition to being useful, this model is very beautiful and can be displayed in your kitchen, complementing the decor. Look how beautiful the Folded Star Pot Holder. With light tones and discreet prints, we have a very delicate combination. 
In the composition of a table, the pot holder, in addition to protecting the surface of the furniture, avoiding contact with hot objects, its presence makes all the difference in the decoration of the environment. After all, both traditional and stylized models print style and personality, providing even more beauty and humor during everyday meals. Democratic and affordable, the fabric pot holder can match different types of decoration depending on the fabric print. 
In addition, it is a great gift to give at bridal showers as it is a useful and easy item to make. As it is difficult to use just one pot, we will definitely need more than one pot holder. Take the opportunity to make kits with colors and prints that complement each other. And why not make this an extra income? This type of pattern that, in addition to being a useful decorative piece, sells very well. They can be an option to gift friends and for you too.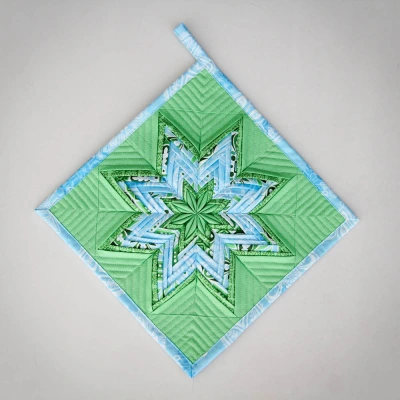 Image / Pattern / Tutorial: Moda Fabrics
After all, we do but we also like to decorate our house. To make the folded star you will need a lot of attention. There are several fabrics sewn together and they are folded until this result is achieved. Take it easy, read the pattern, see the photo and then do the step in your pot holder. I don't recommend doing everything with the same color because it can confuse you when making the star. 
Once you understand how to do it, then yes, you can make everything in the same color so you won't get lost. In the pattern you can see that you don't need very large fabrics. Take the opportunity to use some fabric left over from another project and combine it with new ones. If you need a bigger pot holder, increase the size of the fabric and make a few more folds. Ready to get started? The Folded Star Pot Holder pattern is available from Moda Fabrics. Did you like it? Let us know here in the comments.