Mount Olympus Blanket – Free Pattern
Hi my loves! Another day with you, another pattern to learn. I am very happy to find you here, you are my craft company. It's a different format of meeting, at first I was a little strange. But with time and circumstances, we adapted and even today, I can't let go of this way of learning, online. Shall we crochet? The pattern I separated is the Mount Olympus Blanket. A very beautiful, comfortable and simple patterned blanket. 
These semi-abstracted geometric shapes give shape to the blanket, uniting two different colors, but maintaining the contrast. To make this design, the artist was inspired by triangles. She searched the internet for a format that she liked and created the blanket. It's good that she shared it with us, so we can repeat this different and so beautiful drawing. 
When we talk about crocheting, we already know that we don't need much, but what we are going to use must be of quality. Mainly yarns. It's impossible for you to make a soft, comfortable blanket using a yarn that is hard, rough. You can dedicate yourself, put all your attention on this pattern and, even so, the result will not be the best. I always like to remember that the best yarn doesn't have to be the most expensive.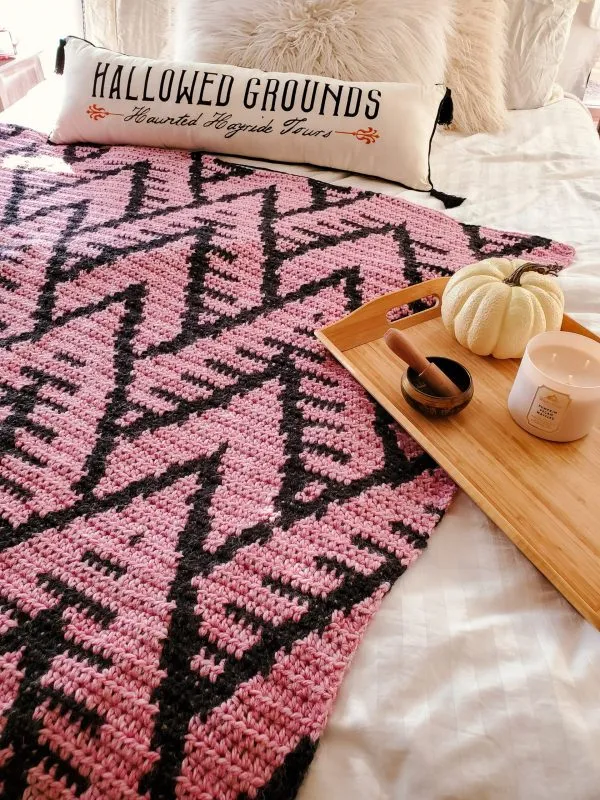 Image / Pattern / Tutorial: Eclaire Makery
You can make beautiful, soft and comfortable blankets with yarns at a reasonable price. Feel the yarn on the ball, imagine that it will be taut when you crochet. And little by little, with more practice, we learn to identify what is best for each project. As for the colors, choose the ones you like the most. You need two colors or shades for this pattern. To make it stand out, choose colors that have greater contrast. 
It will make the design very evident. And as for the pattern, you can find the step-by-step description in Eclaire Makery. See the list of abbreviations before you start reading the rounds to understand all the stitches. Ready to get started? This blanket is a great option to gift a dear person now at the end of the year. Take the opportunity to publicize your work. I'm sure whoever receives it will be very happy. Tell me what you think here in the comments too, I'll be very happy to have your opinion.