Natural Beauty Crochet Dress – Free Pattern
Hi my loves, a great Monday to all of us! I hope you enjoyed the weekend to enjoy the family and recover all your energy. Excited for another week of lots of crafts and beautiful patterns to learn together? Today we are going to start with the Natural Beauty Crochet Dress. Crochet is a technique widely used for decoration pieces, but it has long ceased to be just for household items and has moved on to clothing and accessories.
There are unique and amazing pieces made by hand with this technique. There are crochet dress models for all tastes and for all climates. Crochet dresses are usually very fresh and today's model matches perfectly with the hottest days. Crochet is a craft rich in beauty and often unique. This is because it is a handmade technique and requires delicacy and care.
The colors of crochet dresses are the most varied, starting with white to the most vibrant. The coolest thing about crochet is that it allows you to make different designs, such as abstract and floral themes. Crochet can be applied alone, on a dress with lining, or with a mix of other fabrics, including embroidery. Crochet dress models tend to be tighter on the body.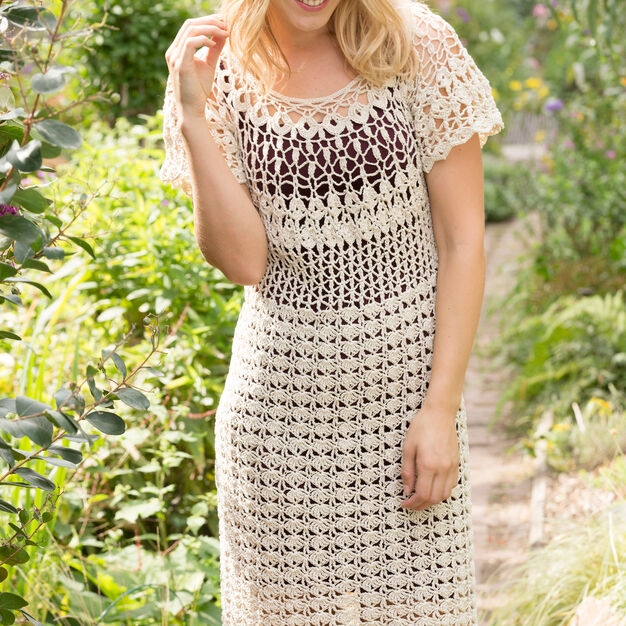 Image / Pattern / Tutorial: Yarnspiration
Because it is a handmade work and with leaked details, it is very fresh, being great for the hottest days and nights. The Natural Beauty Crochet Dress is worked in one piece, from the neck downwards, in four sections: Neckband, Yoke, Body, and Skirt. All information, walkthrough, bill of materials, footage and graphics are available at Yarnspiration.
This model is beautiful, but not the easiest. We are sure that, by reading carefully and understanding the stitches, you will rock and be able to make beautiful dresses. Did you like it? We want to know your opinion here in the comments, and don't forget to suggest the piece you want to learn. This is just our first pattern of the week, get ready to learn a lot more. Let's crochet?!