Tropical Baby Blanket – Free Crochet Pattern
Hi everybody! Another week coming to an end and we hope you have been able to get inspired and create new pieces together with us. We have one more pattern to share, one more beautiful blanket. The Tropical Baby Blanket is that pattern with a soft texture and full of colors. Crochet blankets are classic pieces.
The crochet technique has been present in our days for a long time. It's that craft that our grandmothers and mother used to do to pass the time and create pieces for their children and for the house. Over the years and with the popularization of this technique, today we have modern pieces that decorate our home and beautiful pieces of clothing that make our looks complete.
Blankets are present in all baby outfits, and if they are crocheted, even better. The crochet blankets are unique, very beautiful, soft and warm. As much as we get inspired and follow the pattern instructions, each piece is unique. Each artisan does the technique in a different way. Some make the stitches tighter, others looser. All this differentiates the pieces, makes them unique.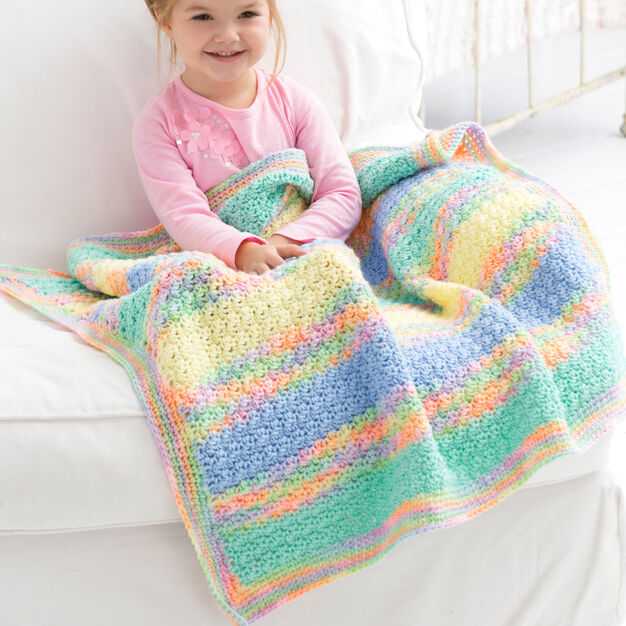 Image / Pattern / Tutorial: Yarnspirations
You can add some special touches, increase or decrease the size of the blanket or edge. When choosing yarns to make, choose ones that are softer to the touch, that won't irritate babies' skin. They are more sensitive and require greater care. In addition, the yarn has to be of good quality, to guarantee a perfect piece for longer.
If you have doubts when choosing, in the pattern there is an indication of the yarn used by the designer. The tropical blanket pattern is available at Yarspirations. There you have the step of all the rounds, the materials and tips to do it in full. We hope you enjoyed spending this week with us and enjoyed all the patterns. Tell us here and let's crochet!