Snuggly Knit Bunny Blanket – Crochet Pattern
Today we have the lovely Snuggly Knit Bunny Blanket. This baby blanket is sure to become a favorite in any nursery. The pattern features a simple stocking stitch design, graphic rabbit face, and large ears. It's a great project for you to practice double stitch, intarsia, stockinette stitch and more. What a great way to welcome a new baby. It's also a beautiful way to gift dear friends who have become parents.
Crochet bunny blanket a very beautiful work and will definitely make a difference when composing the baby's trousseau. Different and delicate, this beautiful blanket can be woven for both girls and boys. This beautiful blanket is a work made with love that gradually takes shape and is completed with love. It is a job that will be successful among moms.
When choosing the lines, the colors can be chosen according to your preference. But as for the features of the line, make sure it won't irritate the baby's skin. Choose a fluffy line that is cozy and warm. Like other baby products, the parts are washed frequently. Choose lines that have a good quality and duration. This way you guarantee a piece that will last longer in good condition, without burst points or deformations.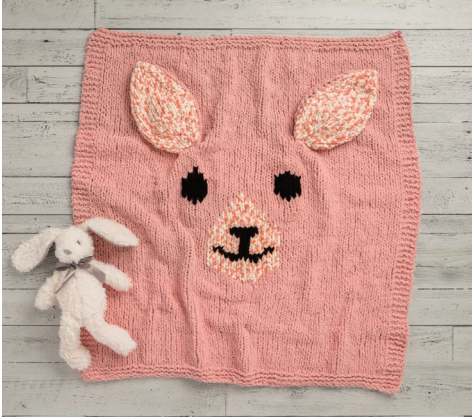 Bunny Blanket Pattern
In this pattern, some abbreviations are used, which are described below. It's always good to have an idea before starting the blanket. The pattern is easy, but read all of it before starting. Better to clarify possible doubts before stopping work in the middle, right?
Alt = Alternate;
Approx = Approximately;
Beg = Begin(ning);
Cont = Continue(ity);
Dec = Decrease;
Inc = Increase;
K = Knit;
Kfb = Increase 1 stitch by knitting into front and back of next stitch;
K2tog = Knit next 2 stitches together;
M1 = Make 1 stitch by picking up horizontal loop lying before next stitch and knitting into back of loop;
P3tog = Purl next 3 stitches together;
Rep = Repeat;
RS = Right side;
Ssk = Slip next 2 stitches knitwise one at a time. Pass them back on to lefthand needle, then knit through back loops together;
St(s) = Stitch(es);
Tog = Together;
WS = Wrong side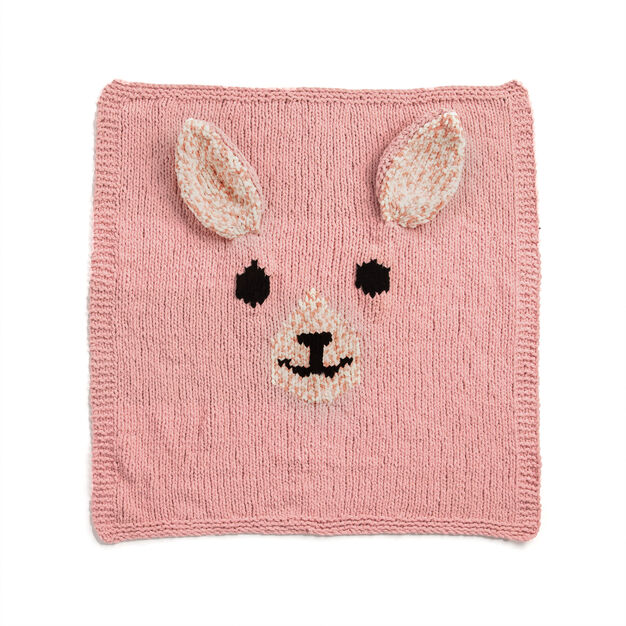 With this pattern, you will have a beautiful 36″ x 40″ (91.5 x 101.5 cm) blanket. The complete pattern is available from Yarnspiration, with diagrams, thread and needle indications to make this enchanting piece.