When You Wish – Baby Quilt Pattern
When you wish is a beautiful quilt pattern that can be made to use as a quilted baby mat. Patchwork is a very versatile and super current technique. Adapted to the most current trends in baby room decor, combining the most modern prints in the segment. One of the main advantages of patchwork pieces for a baby room is its versatility and the delicacy that the chosen fabrics bring to the piece.
You can adapt the decor to a specific theme or compose the space only with an exclusive mix of prints and fabrics. In addition to the opportunity to create a totally exclusive composition. When You Wish Pattern is an unusual and tasteful proposal. The finished pattern measures 36 ½", a convenient size as it can be backed up with a single stretch of yardage. A great size to use as a play mat, while still being small enough to use as a crib or stroller quilt.
In the pattern we brought, the fabrics used are very colorful. The more prints and colors, the more unique your piece is. If you prefer more discreet options, pastel tones, it will look just as beautiful. Regardless of the prints, give preference to 100% cotton fabrics and we recommend that they be washed before being used in craft work.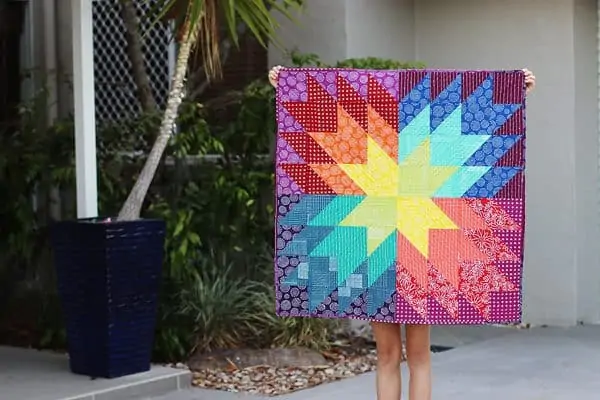 When You Wish Pattern
Materials needed to start your own patchwork work are basic and described below:
Fabric scraps with prints and colors of your choice;
Ruler or tape measure;
Scissors;
Sewing machine;
Fabric to male the lining;
Filling;
Cutting base.
It's a lovely pattern and a great quilt for learning to cut out quadrants to form a star. It's a beautiful piece that can be made for yourself, as a gift for babies from dear friends, or to sell. Either way it will be a success. You will have fun making it and feel very proud of the piece you created!
Image / Pattern / Tutorial: Bonjour Quilts.