Village Life Quilt – Free Pattern
Hi my loves! Let's make this week amazing? To start with a beautiful and super cool pattern for you to make at your house, our team separated the Village Life Quilt. If you are just starting to quilt and wanted a simple but very beautiful idea, stay here with us to learn this new pattern. A quilt as beautiful as this cannot be kept in the closet.
Extend it on your bed and make the environment even more cozy. Display it in the living room, on the sofa or in an armchair, so whenever a friend arrives and wants to snuggle up, the quilt makes everything more inviting. This quilt looks very beautiful in the children's room too, it's a pattern that matches various environments and decorations.
And if you have many scraps of fabric left over from other projects, you can take advantage of them and use them in village houses. You don't need a lot of fabric, you can make each house with a color, a pattern. They don't have to match perfectly with each other. As each one goes to a house, they don't get to be side by side. You can see that a color has been chosen for the background, to highlight the village.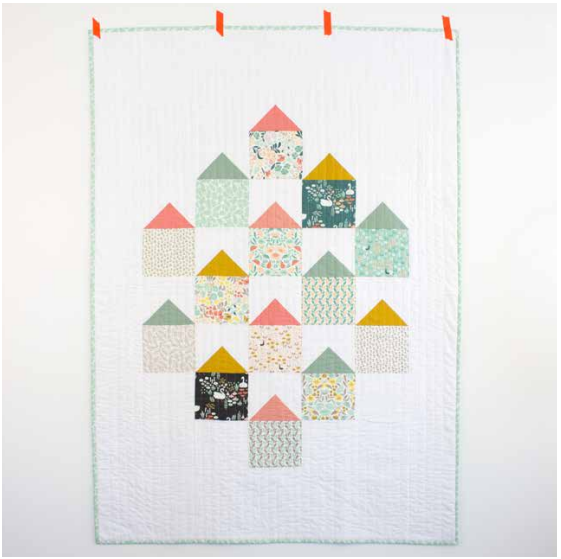 Image / Pattern / Tutorial: Cloud9 Fabrics
So, choose colors and prints that contrast, to highlight the work you went into assembling each house. When choosing fabrics, choose quality materials that guarantee a beautiful and colorful quilt even after a few washes. As it is a handmade item, do not use hot water or chlorine bleach when washing. Shall we quilt? The Village Life Quilt pattern is available at Cloud9 Fabrics.
Following the measurements and step by step, you will end up with a beautiful quilt measuring approximately 48″ x 67 ½". The cutting dimensions include ¼" seam allowances. We consider this size great, which allows you to sew safely. Whether for you, to sell or to give as a gift, it will be a success. Read the pattern first, separate the necessary materials and we will quilt!