The Wonderful Giant Dahlia Quilt
The Giant Dahlia quilt is a wonderful model, has been around for some time but still being a piece to cheer up the environment. This pattern was design by Hubert See Mehren. Even though it was created a few years ago, the pattern is very current. Matches almost any environment. Allows many combinations of colors, prints and even different textures.
If you choose to place the quilt in the room, pastel shades are a color choice option. In addition to being on the rise, they leave the environment very harmonious, it doesn't steal the attention of other parts of the room, but it also doesn't go unnoticed. It can be a beautiful piece for the children's room too. Make in shades of pink, yellow or blue. If you prefer, mix everything and leave the piece colored, it will be even more charming for the children.
This patchwork pattern isn't the easiest, but it's not difficult. With attention and persistence, you will be able to make beautiful quilts with this pattern. As with other crafts, practice is necessary to improve your work and become more and more professional in this art. You can also do this piece in the company of your friends. It can become a great hobby, an activity to do with those you love.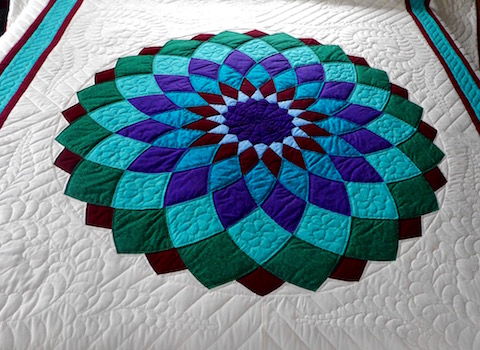 Materials Needed to Make the Giant Dahlia Quilt
Materials you need to make this quilt are very simple. You can use a machine sew or hand sew. You'll also need a pressing board and iron. No pins guys! Below you'll find the graphis and the measures needed. The whole pattern is available free at Crafts. You can also follow the instructions at She's Got Mojo.
1/4 yard solid color for A
2 1/2 yards light print for # 1 (for B and M)
2 1/2 yards dark print for # 1 (for C, E, and L)
5/8-yard medium print for # 1 (for D and M)
1 yard light print for # 2 (for G)
1-yard medium print for # 2 (for F)
1/2-yard dark print for # 2 (for H)
7 yards muslin (for I, J, K, N and panel)
7 1/2 yards backing and facing fabric
Batting – 80 inches x 102 inches